Home / World / Asia-Pacific
Candlelit rally held in South Korea to demand truth behind Sewol ferry disaster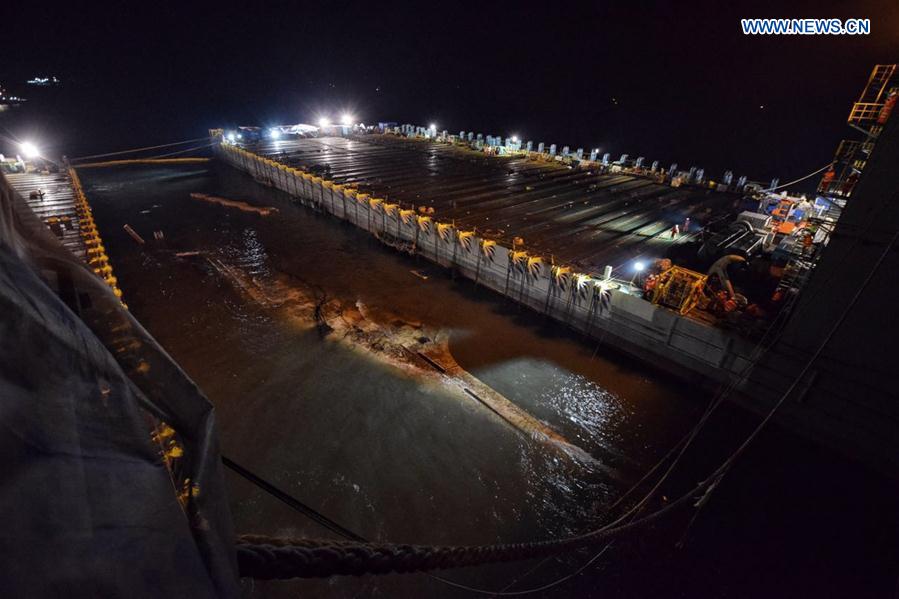 The undated photo shows the sunken passenger ferry Sewol in waters off Jindo Island, South Korea. The sunken South Korean passenger ferry Sewol was lifted successfully, officials said on Saturday. [Photo/Xinhua]
SEOUL - A candlelight rally was held once again in South Korea on Saturday night to demand truth behind the country's worst maritime disaster that claimed over 300 lives three years ago.
The 6,825-ton passenger ferry Sewol capsized and sank in waters off Jindo Island on April 16, 2014. After having lain in the seabed to the southwest of South Korea, the ill-fated vessel was salvaged earlier this week.
The ferry was transported to a semi-submersible barge that would carry it to a port in Mokpo, about 90 km away from the site. At the port, search operations will be conducted as nine bodies are still unaccounted for.
Organizers said over 100,000 South Koreans gathered at the Gwanghwamun square in central Seoul to participate in the candlelit vigil.
People chanted "Get to the bottom of the Sewol disaster" and "Imprison Park Geun-hye."
Just two weeks after the constitutional court's ruling on March 10 to remove former President Park Geun-hye from office, the ferry was successfully lifted above the sea.
Suspicions were raised that the Park administration had deliberately delayed the lifting for three years to cover up truth behind the maritime tragedy that killed 304 passengers, mostly high school students on a school trip.