Opposition seeks Akie Abe's testimony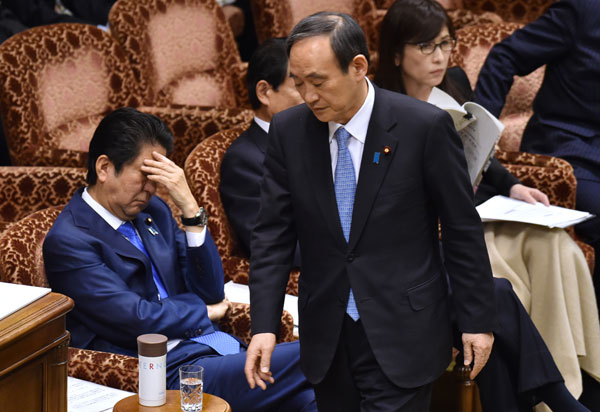 Japanese Chief Cabinet Secretary Yoshihide Suga walks past Prime Minister Shinzo Abe after answering questions during a budget committee session in Tokyo on Friday. Kazuhiro Nogi / AFP
Japan's major opposition parties agreed on Friday to seek the summoning of Prime Minister Shinzo Abe's wife, Akie, and Osaka Governor Ichiro Matsui to give sworn testimony in parliament.
The move came after Yasunori Kagoike, the head of the Osaka-based education institution Moritomo Gakuen, stood by his claim in testimony on Thursday that Akie Abe had given hima donation of 1 million yen ($9,000) on Abe's behalf.
"The curtain did not close on the problem (with Kagoike's testimony in the parliament), but rather just opened," said Renho Murata, leader of the Democratic Party, Japan's largest opposition party, on Thursday.
Opposition parties are questioning Kagoike's ties with the Abes, which are believed to be part of the political power that helped Kagoike win a favorable land deal for Moritomo Gakuen, a private school.
Kagoike said in his testimony on Thursday that Akie Abe's aide, Saeko Tani, made inquiries for him in 2015 to Japan's Finance Ministry about the land.
The Abe administration has described Akie Abe as a "private citizen" and said she had nothing to do with the land deal.
The newspaper Asahi Shimbun called Akie Abe a public figure and said she has the responsibility to answer questions.
Asahi Shimbun said in an editorial that to uncover the truth, the prime minister's wife should be summoned to testify in parliament to answer questions raised by Kagoike's allegations, amid the growing scandal.
The summoning of Akie Abe would require the approval of the ruling coalition of the Liberal Democratic Party and the Komeito party, which now refuse.
On Friday, Abe and his wife again denied making the donation, which was said to have helped Moritomo Gakuen build an elementary school on land purchased at a discount.
Abe has said he would resign not only as prime minister but also as a parliament member if he or his wife were involved in the land deal or certification of the school.
Asahi Shimbun said Abe needs to offer convincing answers to the parliament on questions about Akie's actions and other issues.
The upper house of the parliament summoned two key government officials who oversaw negotiations over the land sale as unsworn witnesses on Friday. All the emails Akie Abe and Kagoike's wife, Junko, sent to each other in the past two months were made public on Friday.
caihong@chinadaily.com.cn