Abe's South China Sea meddling doomed to fail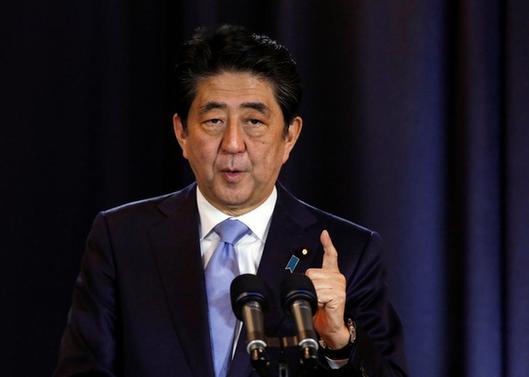 Japanese Prime Minister Shinzo Abe gestures during a press conference in Buenos Aires, Argentina, November 21, 2016. [Agencies]
Currently on a four-nation tour of Europe, Japanese Prime Minister Shinzo Abe is seeking the support of European countries in his bid to get the South China Sea disputes on the agenda for the G7 summit, to be held in Italy in May.
Given that neither Japan nor any European countries are directly involved in the maritime disputes in the South China Sea, Abe is showing his desire to meddle in the issue for his own ends.
This is not the first time that Abe has tried to hijack the G7 agenda and sought to internationalize the South China Sea disputes to serve his ulterior political purposes. Abe has been relentlessly pushing to get Japan deeply involved in the South China Sea disputes to justify his country's bigger military presence in the international arena.
Days before Abe embarked on his European tour, it was reported that Japan will dispatch the Izumo-class helicopter carrier, its largest warship, to the South China Sea. The 249-meter vessel is due to make stops in Singapore, Indonesia, the Philippines and Sri Lanka before participating in a joint naval exercise with Indian and US naval vessels in the Indian Ocean in July.
This will be Japan's biggest show of naval force in the region since World War II. For a country that has never sincerely owned up to its militarist past, such an open and high-profile display of force is itself alarming, without mentioning its intended purpose of meddling in the sovereignty disputes to which it is not a party.
Japan's interference comes at a time when the South China Sea disputes have shown clear signs of abating thanks to the recent efforts of the parties directly involved, and when China is negotiating a framework for a code of conduct with Southeast Asian countries, which will pave the way for building peace and stability in the waters.
Abe's meddling in the issue, at this important stage, lays bare his intention of playing up the issue and creating trouble for China. And he will no doubt want to keep hyping up the issue to distract the attention of those at home from the land scandal in which he and his wife have become embroiled.
Yet while it may suit Abe to play up the South China Sea issue, he should be aware the more he does, the more people in the region will not deem Japan to be a responsible country, an image Japan has to establish in the first place if it wants to be treated as a normal country.