Myanmar, Philippines sign MoU on food security, agricultural cooperation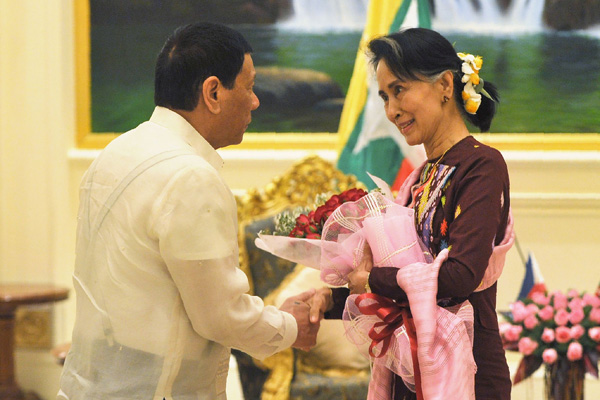 Myanmar's State Counselor Aung San Suu Kyi (R) shakes hand with Philippines' President Rodrigo Duterte before their meeting at the Presidential House in Nay Pyi Taw on March 20, 2017. [Photo/VCG]
NAY PYI TAW - Myanmar and the Philippines on Monday signed a memorandum of understanding on food security and agricultural cooperation.
The signing was witnessed by Myanmar President U Htin Kyaw and his visiting Philippine counterpart Rodrigo Roa Duterte following their talks.
The Philippine President, who arrived Nay Pyi Taw Sunday on a two-day state visit to Myanmar, also met State Counselor Aung San Suu Kyi.
The pair discussed regional integration in the Association of Southeast Asian Nations (ASEAN), enhancing bilateral relation and trade cooperation, providing technical assistance on agriculture and vocational training, Rakhine state issue and humanitarian affairs.
They also discussed cooperation in cracking down on human trafficking, drugs and terrorism.
Duterte donated 300,000 US dollars as humanitarian aid to Rakhine state through Aung San Suu Kyi who is also the chairperson of Central Committee for the Implementation of Peace and Stability in Rakhine state.
The Philippines President also met Myanmar's Commander-In-Chief of Defense Services Senior General Min Aung Hlaing Monday evening.
The Philippines and Myanmar established diplomatic ties in 1956.
Duterte, on an introductory trip in the region after he took office last May, is to proceed to Thailand after Myanmar visit.