Chinese art and ceramics to come under the virtual gavel
Following a record-breaking sale for Christie's at Asian Art Week in New York, the British-based auction-house is now offering the first Chinese ceramics and art online sale of the year.
Collectors with an interest in Chinese art will have the opportunity to get their hands on pieces from the Indianapolis Museum of Art at the Art of China online spring sales event.
Going under the virtual hammer will be a group of more than 30 Ming Dynasty (1368-1644) and Qing Dynasty (1644-1911) porcelains from the museum.
Among the highlights are a large reverse-decorated blue and white dish from the Kangxi period (1662-1722) and a 19th-century celadon-glazed "garlic-mouth" vase.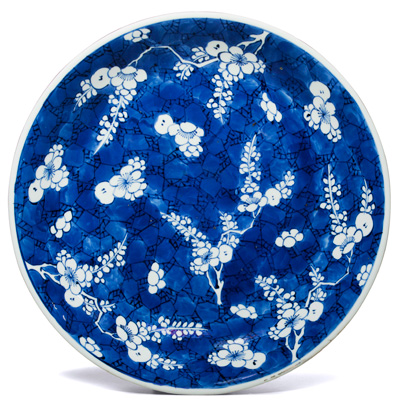 A large reverse-decorated blue and white dish of Kangxi Period (1662-1722), property from the Indianapolis Museum of Art. [Photo provided to chinadaily.com.cn]
This spring edition event, with another two coming up later in the year, follows the success of the Chinese Ceramics from the Metropolitan Museum of Art online sale in 2016, which attracted buyers from around the world.
The auction giant is hoping that this year's sale performs just as well after global customers continue to show interest in highly decorated porcelains in the Asian market and the demand for well-provenanced pieces.
Last summer the Art of China online sale totaled $683,750.
Samantha Phillips, Christie's global head of online sales, Asian Art, said: "Pieces with museum provenance always attracts buyers. There is a small section on this sale, about 30 lots, mostly porcelain and some general Chinese works of art."
Phillips added that each sale is sourced and curated by specialist teams from London, New York and Paris and that some of Christie's online prices were "at a level which people are comfortable with."
She said: "The market is always shifting and tastes change but our online sales are encouraging new collectors in this field to acquire great works of art at all price levels. It will also be exciting to see how these new buyers at Christie's may start to form their own tastes and collections."
Phillips added: "Christie's is a trusted brand, and pieces in our online sales are covered by the same warranty as our live auctions. The general trend we are seeing is that clients across online sales will return, and half of those will go on to bid in our live auctions."
Online auctions are also a way to highlight a good piece that might be overlooked at events such as New York's Asian Art Week, where thousands of lots are available.
Phillips said these pieces would then be better suited for an off-season sale where a piece could stand out more.
Online bids for the Art of China start on Tuesday until March 29.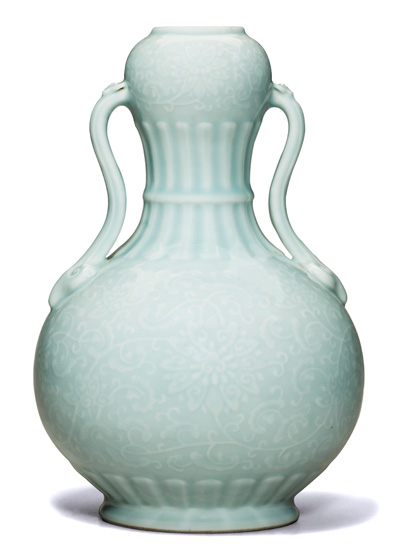 A celadon-glazed "garlic-mouth" vase from the 19th century, property from the Indianapolis Museum of Art. [Photo provided to chinadaily.com.cn]