UK trade team to use Queen Mary liner to promote Shanghai trip
A UK trade delegation is to use Cunard's iconic cruise liner, the Queen Mary II, as a tool to promote trade when it visits Shanghai at the end of this month.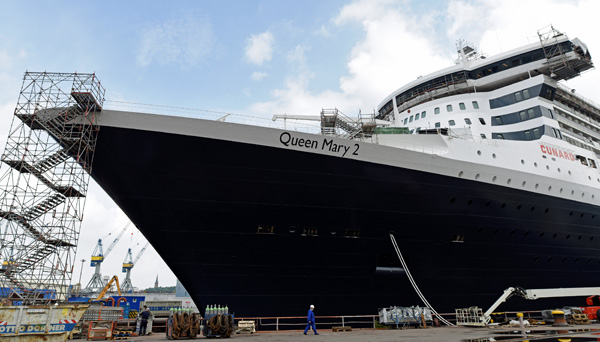 A worker passes by the ocean liner Queen Mary II in a dock at Blohm&Voss shipyard in Hamburg, Germany, June 14, 2016. [Photo/Agencies]
British government ministers and representatives of the maritime industry have timed their visit to coincide with the ship's East Asian tour, and the vessel will be used both as a backdrop and a meeting place.
The UK government delegation will be headed by Shipping and Ports Minister John Hayes and Trade Minister Mark Garnier.
With them will be representatives of Maritime UK, a trade group that promotes the UK's maritime industry.
David Dingle, Maritime UK's chairman, said: "The UK and China are two of the world's leading maritime powers, and this trade mission is designed to further strengthen relations between our two countries, delivering benefits for both markets."
Representatives from various UK maritime companies will meet their opposite numbers from China to explore future deals and cooperation.
After their talks in Shanghai, Dingle and Hayes will visit Hong Kong for talks with the Hong Kong Shipowners Association.