Ancient gems lure Chinese investors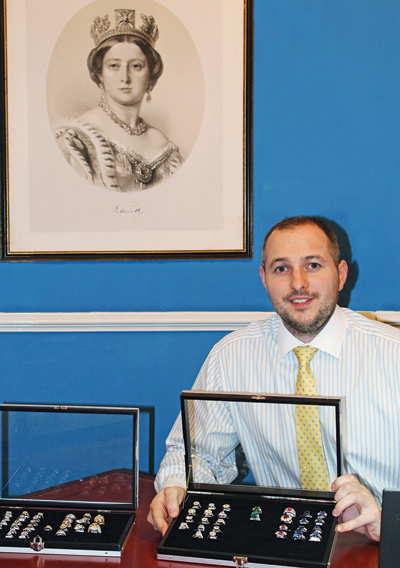 Berganza director Justin Daughters holds some rare rings. 
Big-spending Chinese tourists visiting London are not only snapping up luxury clothing and designer handbags these days, many are now also targeting vintage and antique jewelry.
The move looks to be part of a trend in which Chinese customers have become more sophisticated in searching for something unique.
Susannah Lovis, owner and founder of an eponymous vintage and antique jewelry store in London's Burlington Arcade, said Chinese customers are particularly interested in jewelry from the 1920s Art Deco period.
"They are keen not only on the piece itself but also the investment that it represents," she said. Lovis noted that her store in affluent Mayfair has seen a 20 percent increase in Chinese buyers during the last two years.
"It's good to see that, as well as going for branded items like vintage Cartier and Tiffany, they are also going for fine-quality handmade jewelry that is not branded but also beautifully made by master craftsmen."
Justin Daughters, a second-generation jeweler and director of Berganza in London's Hatton Garden, said:"Over the last few years, customers are tending to have a special interest in signed pieces by famous jewelry houses, and also ancient jewelry dating back several thousand years. Our Chinese customers make up approximately 10 percent of sales and we have noticed that this number has been increasing since around 2005 by a few percent each year."
Daughters added that, previously, Chinese customers were mainly interested in pieces with impressive gemstones and diamonds and would not consider a 2,000-year-old ring.
"We had two women come into the store and they each purchased Roman rings for 8,000 pounds ($9,881) per ring," Daughters said. "It was a surprise to me because of their age, they must have been in their early-20s."
Prices at Berganza range from 2,000 pounds to more than 220,000 pounds. Precious items locked away include rare sapphires from Kashmir, Georgian and Edwardian pieces and ancient rings.
He said Chinese clients know what they want and are an"extremely savvy kind of customer who values rarity and the importance of investment".
"They want collection pieces that will go up in value, rather than just spending money on a designer bag that could lose them money," he said.
Another change Daughters has noticed is a fall in the number of dealers buying items in bulk and taking them to China. He believes that might be because more Chinese people travel to the UK themselves.