Letter bomb explodes at France office of IMF, injuring 1
PARIS — A letter bomb exploded Thursday at the French office of the International Monetary Fund, lightly injuring one person, according to Paris police.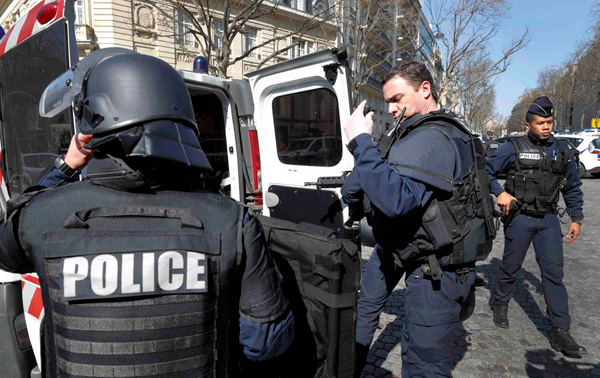 Police outside the International Monetary Fund (IMF) offices where an envelope exploded in Paris, France, March 16, 2017.  [Photo/Agencies]

Staff from the IMF office were evacuated and armed military officers and police guarded the area, in a chic district of western Paris. The World Bank office in France is in the same compound.

No other damage was reported in the explosion, according to a police official who was not authorized to be publicly named.

It is unclear who sent the explosive. Thursday's incident came a day after a package arrived at the German Finance Ministry containing low-grade explosives, like those used in firecrackers.

Mailroom employees at the ministry quickly identified the package as suspicious and called in explosives experts, who destroyed it with a controlled explosion.
The IMF office in France did not immediately respond to calls.

France remains in a state of emergency after a string of deadly Islamic extremist attacks over the past two years.