Queen Elizabeth signs Brexit deal into law authorising Britain's exit from EU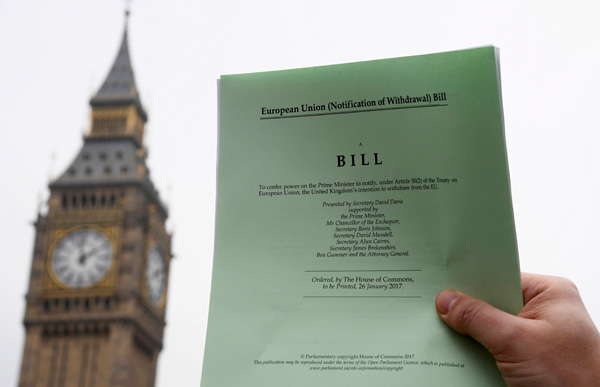 A journalist poses with a copy of the Brexit Article 50 bill, introduced by the government to seek parliamentary approval to start the process of leaving the European Union, in front of the Houses of Parliament in London, Britain, January 26, 2017.  [Photo/Agencies]
LONDON -- Queen Elizabeth has signed the Brexit bill, clearing the way for Prime Minister Theresa May to start talks to leave the European Union.

House of Commons Speaker John Bercow announced Thursday that the European Union (Notification of Withdrawal) Bill has received Royal Assent from the queen, which was passed by the parliament on Monday.

It allows the prime minister to notify Brussels that the UK is leaving the EU, with a two-year process of exit negotiations to follow.