Bao Bao just herself at dumpling farewell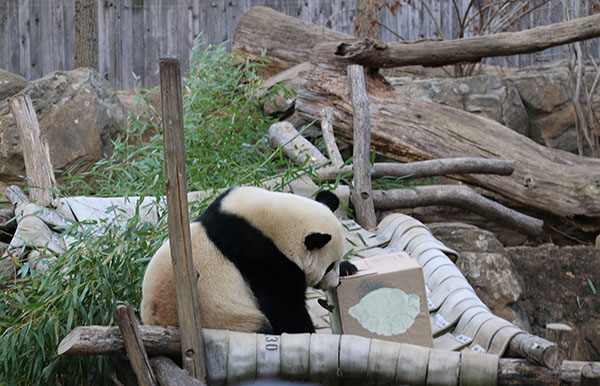 Giant panda Bao Bao at the Smithsonian's National Zoo enjoys her special treat at a dumpling party on Thursday morning. [Photo by Chen Weihua/China Daily]
Bao Bao, the giant panda at the Smithsonian's National Zoo, did not disappoint at her Chinese dumpling farewell party on a frigid Thursday morning.
As a crowd gathered outside her yard, Bao Bao, who will return to China on Tuesday, wandered about, munching on bamboo and then napping on a tree trunk, leaving many to wonder how long the rest would be and when she would come and open a special food box with a jiaozi (Chinese dumpling) drawing outside. It was put in the yard earlier by her keeper.
To the delight of partygoers outside her yard, the siesta lasted about 10 minutes. But before strolling toward the food box, she climbed a tree, sitting near the top, looking around and relaxing before coming down to get her special treat 12 minutes later.
Bao Bao has been in the spotlight since the zoo announced her departure last October.
The dumpling party, with food provided by the Chinese embassy, was one of a series of celebratory events leading to her departure.
Helen Gonzales, who lives not far from the zoo, said she visits the giant pandas on most weekends since 2006, when Tai Shan, the first surviving panda born at the zoo, was only 9 or 10 months old. Tai Shan returned to China in 2010 to join the breeding program.
"It's sad. I know I would cry," she said of Bao Bao's upcoming departure. But Gonzales said she knew there is a good and important reason for them to go back.
"But I'm still going to miss Bao Bao, amazing panda," she told China Daily.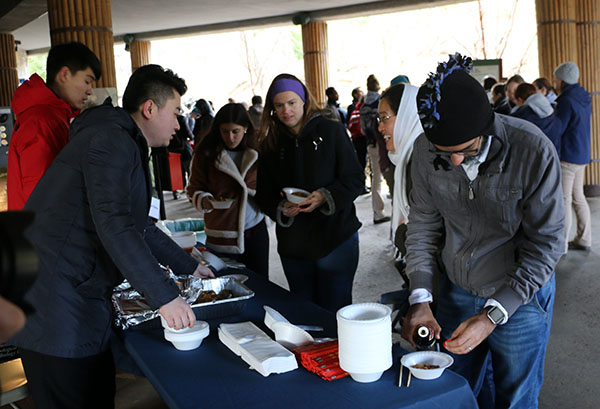 Visitors sample jiaozi (dumplings) provided by the Chinese embassy in Washington in a dumpling party on Thursday morning at the Smithsonian's National Zoo. It was part of a series of celebratory events to bid farewell to giant panda Bao Bao. [Photo by Chen Weihua/China Daily]
Bao Bao was born on Aug 23, 2013, through artificial insemination of giant panda Mei Xiang. Bao Bao was the first surviving cub at the zoo since 2005 after Tai Shan's birth.
At the beginning of the dumpling party, Lisa Washam of Ohio was writing on wish cards prepared by the zoo. "You are an amazing panda and the best is yet to come. I am very excited for you to take the next step. I can't wait to see your lovely cubs soon. And I am sure they are going to be as beautiful as you are," she said as in reading her message to reporters.
Washam had traveled to Washington in the past years for the debut of Bao Bao and her brother Bei Bei, born in August 2015.
Laurie Thompson, assistant curator of giant pandas at the zoo, described Bao Bao as "very unique".
"She is very independent girl. She loves to do what she wants. She vocalizes a lot when she wants something, a lot like her dad," said Thompson, referring to the zoo's 19-year-old giant panda Tian Tian.
Thompson called Bao Bao "a sweetheart. We love her here. But we know that our work here is done, we need to send her off on her way. Almost an adult now, so we need to let her go," she said.
Under a loan agreement between the zoo and the China Wildlife Conservation Association, cubs born in the zoo by giant pandas on loan from China also belong to China and should move to China before they reach the age of 4.
The zoo began training Bao Bao in recent months to acclimate her for a 16-hour flight to China in a huge shipping crate.
Michael Brown-Palsgrove, curator of giant pandas, said Bao Bao is now quite comfortable with the crate. "She has no hesitation to enter that space. I think she will be comfortable on the trip," he said.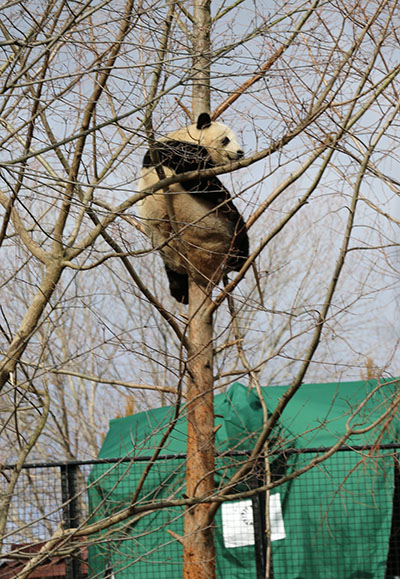 Giant panda Bao Bao at the Smithsonian's National Zoo climbs a tree on Thursday morning at a dumpling party for her departure to China on Feb 21. [Photo by Chen Weihua/China Daily]
Bao Bao will be accompanied by a panda keeper and a veterinarian, plus some of her favorite foods, such as bamboo, sweet potatoes, apples and biscuits.
"She will probably just be resting, doing her normal routine — eating, drinking and sleeping," Brown-Palsgrove said.
While some news reports said that giant pandas returning to China from Zoo Atlanta had encountered language barriers, keeper Stacey Tabellario at the National Zoo said it should not be a big problem for Bao Bao because the hand signals used by her and her colleagues will be the same as those in China.
Online, the zoo has been sharing a Best of Bao Bao video, which shows her fun moments of looking like a stick of butter, her naming ceremony, her rolling down the snow in the yard and climbing on an ice cake on her first birthday.
Keepers also shared their favorite memories online. The dumpling partygoers on Thursday morning were lucky.
"On Christmas Eve in 2014, Bao Bao climbed a tree and did not come down when called, so I stayed late. I expected that I would have to stay well into the next day, but just before midnight, Bao Bao made her way down the tree and into the Panda House. It was our own Christmas miracle," wrote keeper Shellie Pick.
Besides Washington, giant pandas are also housed in three other US zoos, in San Diego, Atlanta and Memphis, Tennessee.