Abuse of Chinese trainees 'rampant' in Japan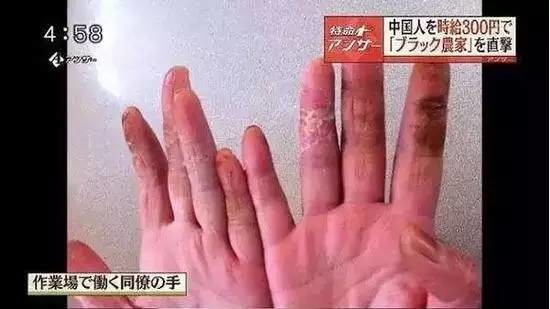 A screenshot of the TV program aired in Japan. [Photo/Weibo.com]
The abuse of Chinese trainees in Japan is rampant as many of them are forced to work overtime and under unsafe conditions, according to a recent TV program that aired in Japan.
The interns gained working access in the country under Japan's Technical Intern Training Program, the original aim of which is to train people from developing nations with skills they can use back home.
However, many Japanese companies used the plan as a way to get cheap foreign labor, forcing them to work extremely long hours without paying adequate wages.
According to Japan's Ministry of Justice, there were 192,655 technical trainees in Japan as of the end of 2015, an increase of about 15% from the previous year.
China was the largest source of interns, with 46.2% of the total, followed by Vietnam and the Philippines.
Japan's labor ministry last year inspected 5,173 workplaces across the country. Of those, 3,695 were found to be in breach of foreign labor standards, the Nikkei Asian Review reported.
A record 5,803 foreign trainees went missing in 2015 while working in Japan, sparking concern that many may have remained in Japan as a source of black market labor, The Japan Times said in a report late last year.
But due to the country's shrinking and aging population, the Japanese still plan to expand the intern training program. Two bills aimed at cracking down on rights abuses of foreign trainees were passed in Japan's parliament last year.