Schulkin sworn in as US Veterans Affairs chief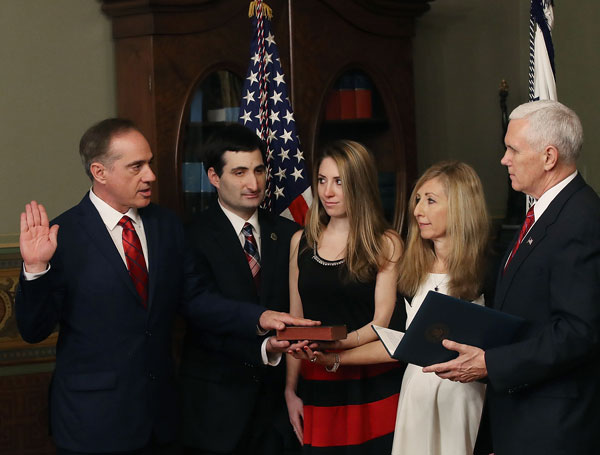 U.S. Vice President Mike Pence (R) swears in Dr. David Shulkin (L) to be new Veterans Affairs Secretary February 14, 2017 in Washington, DC. [Photo/Agencies]
WASHINGTON — David Shulkin has been sworn in as President Donald Trump's Veterans Affairs secretary.
Vice President Mike Pence administered the oath to Shulkin after all 100 senators voted late Monday to confirm the 57-year-old physician to lead the Department of Veterans Affairs. The vote was a rare show of bipartisanship amid partisan rancor over Trump's other Cabinet nominees.
Shulkin is a holdover from the Obama administration; he had been the VA's undersecretary of health.
Trump congratulated Shulkin on Twitter late Monday and urged him to immediately begin to "take care of veterans who have fought to protect our country."Shulkin is the first nonveteran to head the department, which has struggled at times to provide timely medical care and disability payments to millions of former service members.