Canada's Trudeau talks trade with Trump at White House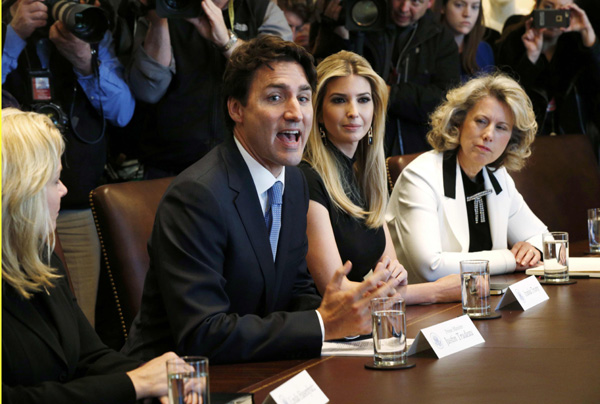 Canadian Prime Minister Justin Trudeau participates in a roundtable discussion with Ivanka Trump (2nd R), US President Donald Trump (not shown) and female business leaders at the White House in Washington, US, February 13, 2017. [Photo/Agencies]
Trump already has been good for Canada as he has said he'll expedite approval of the Keystone XL pipeline. The pipeline from Alberta through America's midsection would carry more than one-fifth of the oil Canada exports to the United States. Former President Barack Obama turned down the pipeline, a major blow Canada's oil industry.
Canada has the third largest known oil reserves in the world and needs infrastructure to export its growing oil sands production. The country is America's largest supplier of foreign oil.
In addition to private meetings, the leaders held a roundtable discussion with female executives from the US and Canada and announced a task force focused on women in the workforce.
Trump's daughter Ivanka Trump was in attendance at the meeting and helped recruit participants and set the agenda, fresh evidence of her policy influence.
Said Trump: "In order to create economic growth and lots of very good, well-paying jobs, we must ensure that our economy is a place where women can work and thrive, and I think that's happening in the United States much more so. And Ivanka is very much involved in this. And I appreciate you being involved in it."Trudeau's Canadian administration suggested the task force as a way to work on a shared interest. Dina Powell, assistant to the president and senior counselor for economic initiatives, worked to set up the event, along with Katie Telford, Trudeau's chief of staff and Canadian Foreign Minister Chrystia Freeland.
Trudeau said the task force was "about understanding that women in leadership positions is a very powerful leverage for success, for business, for communities and for our entire economy."Female executives at the table, from major companies in both countries, included General Electric Canada CEO Elyse Allan, TransAlta Corp. CEO Dawn Farrell, Linamar Corp. CEO Linda Hasenfratz, T&T Supermarket Inc. CEO Tina Lee and Schnitzer Steel Industries CEO Tamara Lundgren.
Also there were Julie Sweet, CEO-North America for Accenture; NRStor CEO Annette Verschuren; Monique Leroux, chair of the board of directors for Investissement Quebec, and Carol Stephenson, of the board of directors for General Motors Co.
Trudeau was met later with lawmakers on Capitol Hill.