The ups and downs of life after politics for former leaders
Editor's note: Former presidents and prime ministers don't necessarily vanish from the public eye after leaving office. Some, like Bill Clinton, turn their names into a money-spinning brand, tapping their remaining influence by giving speeches and writing autobiographies, while others seek refuge in art and charity work. Take a look at what some former leaders have been spotted doing in their post-politics life.
Barack Obama
Vacationer Barack Obama can still make headlines even though the whole world is closely watching his successor Donald Trump, wondering who the next newly-elected US president's next target will be.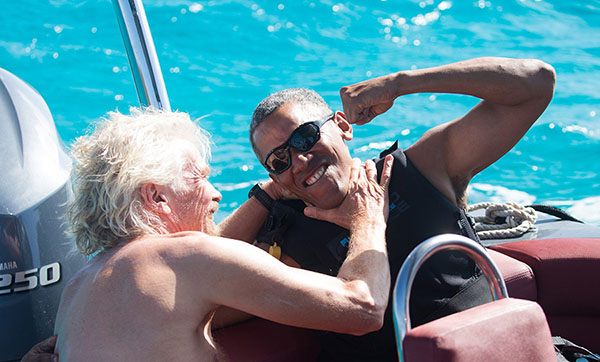 Former US president Barack Obama and British businessman Richard Branson on a boat off Branson's Moskito island, in the British Virgin Islands, in a photo released by Virgin on Feb 7, 2017.[Photo/Agencies]
Obama was recently spotted enjoying his post-presidency, hanging out with British billionaire Richard Branson. Hiding out at Moskito, a remote isle among the British Virgin Islands, the former president apparently detached himself from the political hustle and bustle in Washington. Some nostalgic social media users weren't as ready to let go, shouting to the sunbathing and kitesurfing Obama through cyberspace:
"Barack! Get back here - we need you!" posted one person on Branson's Facebook page.
It is not known whether the Virgin Group founder passed on the message to his pal. After all, these first photos of the former president since leaving the White House are free publicity for the businessman's brand.