Christy Rilling is one of the fashion industry's quietly beavering talents, a woman whose behind-the-seams efforts have made stars from Jennifer Lawrence to Sarah Jessica Parker and Kim Kardashian look incredible in their clothes.
Rilling isn't a household name like many of the designers that she works so closely with, rather she is a tailor, a profession that usually conjures images of arch-backed old men wearing tweed suits and glasses. This 38 year-old New Yorker, who fits hundreds of stars for their red carpet appearances and Vogue covers each year, is, however, a significantly more glamorous poster girl for the craft than her predecessors.
"Everything can and probably should be tailored if you want to look amazing and if you want to look like one of our clients does in their clothes," she says of her ethos and the reason that half of Hollywood has her on speed dial. "Many women don't know, or just forget that sizes off the rack are vague. Any annoyance that you may feel about not being a perfect size when you go shopping should just be thrown out of the window."
When Rilling says that anything can be tailored, she really means it. Some of the most simple requests that come in at her studio include tapering pencil skirts, adding new linings and altering trouser hems but, she says, her team can make anything look better, even your boots. "I see so many women walking around in over-the-knee boots that don't fit them at the ankle, or that hang around parts of the leg. You should get those tailored to fit your legs."
For her celebrity clients, entire garment rebuilds are not uncommon, and she says that any good tailor should know how to pattern cut, too. "Adding sleeves is hugely popular," she says. "So many of the dresses that are designed for a woman over 40 don't have sleeves, and many of my clients simply want those added."
"Often if an actress is a plus size and she can't fit into the largest size that a designer makes, we will buy two and use the fabric to make one larger size," she divulges of what other requests are possible-and what you could ask a tailor to do for you too. "I also have clients who maybe wear a size 6 on the top and a 12 on the bottom, so we'll buy the dress in two sizes and merge them together."
The magic of great tailoring is that its effect is invisible - people will always pay a compliment to someone who looks incredible in their clothes, but they aren't always aware of why they look so great, or how much work it will have taken to achieve that effortless, perfect fit.
Possibly the most technically challenging piece that Rilling has ever worked on, she says, was the curve-hugging Atelier Versace gown that her client Michelle Obama wore to her final state dinner last October - made of rose gold chain mail, no less.
"It was made of a technique that only a few people in the world know how to handle," she explains. "Gianni Versace created this chain mail and there was a very specific way of putting it together. We had to study it and learn how to put it together and someone from their team flew over to help. You basically use little pliers and you unhook each individual chain, then put it back together that way. It was beautiful." The effort was worth it, however, as headlines around the world praised the 'dazzling' First Lady, who shined like a rock star.
The impact of Rilling's work with Mrs. Obama over the last eight years is not to be underestimated; in collaboration with stylist Meredith Koop, she has been part of the team that propelled the First Lady to style icon status. Look closely and great fit has, in fact, become a defining element of the FLOTUS's look.
A highlight for Rilling was the two American Vogue covers that she fitted Mrs. Obama for, working with fashion director Tonne Goodman first on the April 2013 edition, and more recently on the December 2016 issue. "We went to Washington to shoot her at the White House for both, which was incredible," Rilling explains. "For the December issue I was able to pre-fit the clothes on our form in New York before the shoot, so we made sure that the designers were going in the right direction. Then once the dresses were in Washington I fit them on Michelle and I altered them overnight before the shoot the next day. The results were gorgeous - the white Carolina Herrera that made the cover was so beautiful."
Rilling has been working with Vogue for almost a decade now, after fashion editor and shoe designer Tabitha Simmons discovered the unknown theater costume designer's talent for turning great-fitting pieces around in a flash, and passed her name around the fashion department.
Awards season, naturally, is her busiest time, and her staff of eight relocate to a 'pop-up' workshop in LA to cater to demand in the run up to the Oscars. "Usually we see clients at their homes or offices - wherever they have their clothing and feel comfortable having a fitting. We rent a house in West Hollywood for the Grammys and Oscars so that actresses can come to us there."
Being present at some of the world's starriest events and working with fashion's biggest names, Christy Rilling is blazing a trail with her glamorous new version of what it means to be a tailor. "I never imagined that this was where tailoring would take me," she laughs. "My goal now is to keep working with the design schools to get students to find new appreciation for the craft of sewing. These skills are so important and it's not just machines that make clothes - real people are still behind everything."
Tailor tips
Christy Rilling offers five ideas.
1 When looking for a new tailor, test them out on something cheaper. "If someone's going to try out a new tailor then it's better to start with something that's, say, from Topshop, than on something that's super expensive. Lots of my clients bring me high street pieces to fit too."
2 Ask if your tailor is also a pattern cutter. "They should have the skills to make the whole garment again in another fabric or pattern if you wanted. That's the sign of a really great tailor."
3 If you're having a pencil skirt shaped, ask your tailor to assess its lining too. "Changing the lining can really slim them out and offer a more flattering shape."
4 Hoping to have your long trousers turned into ankle grazers? "Never let them chop the fabric away," advises Rilling. "You might want floor length pants next season!"
5 Always cut off the stay-stitches! "It's the one thing that I can't stand when I see it on the street - when you buy a coat, remember to chop the tacks off of the vent or the pockets!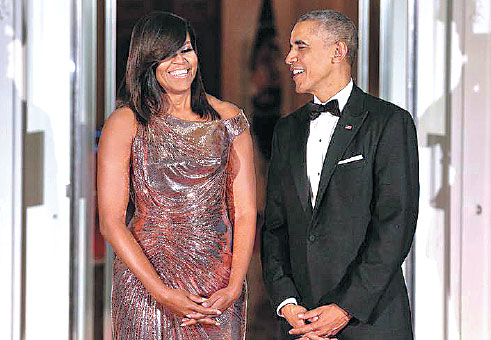 Barack Obama and Michelle Obama speak before the arrival of Italian Prime Minister Matteo Renzi at the White House in Washington. Joshua Roberts / Reuters
(China Daily 02/11/2017 page24)