Syria's Assad receives freed women, children abducted by rebels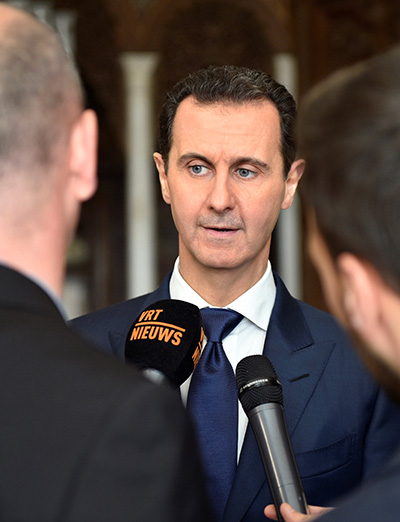 Syria's President Bashar al-Assad speaks to a group of Belgian reporters in this handout picture provided by SANA on February 7, 2017, Syria. [Photo/Agencies]
DAMASCUS - Syrian President Bashar al-Assad and his wife, first lady Asma, received on Thursday tens of women and children recently set free from rebel abduction, according to state news agency SANA.
The women and children were abducted by the rebels from the countryside of Latakia province in northwestern Syria three and a half years ago, and were set free a day earlier during a swap between the government and the rebels.
"We have waited for three and a half years... there wasn't a day that people stopped asking about you... the state with all of its institutions have been looking for you and the goal of every soldier and martyr was your return," Assad told the women and children in Damascus.
Assad urged the people to "return to your normal lives and families, your villages and country... we want you to be an example of steadfastness and determination, and patriotism, and you actually are."
For her part, the first lady stressed that "the determination demonstrated by the abducted women and their children during the years of captivity must continue through rebuilding their lives and to try to compensate for their children and what they have missed of education."
The freed abductees said they have always had faith in the government, stressing resolve to stand again and overcome the difficulties that have been caused by the "tough years of abduction."
SANA also posted photos of the president meeting with the women and children, ahead of their departure toward their homes in the countryside of Latakia.
Sources familiar with the swap said 54 women and their children from Latakia were included in the swap, in exchange of a similar number from the rebel detainees in government prisons.
The swap took place in the countryside of the central province of Hama, by vehicles of the Syrian Arab Red Crescent (SARC).
The women and children from Latakia were kidnapped when the rebels stormed areas in the countryside of Latakia over three years ago.