China no threat to EU, say experts
The European Union has delivered the wrong message in describing China as one of the dangers it faces, China observers have claimed, as EU leaders meet in Malta on Friday to discuss the future of the union in the wake of the Brexit vote and Donald Trump becoming US President.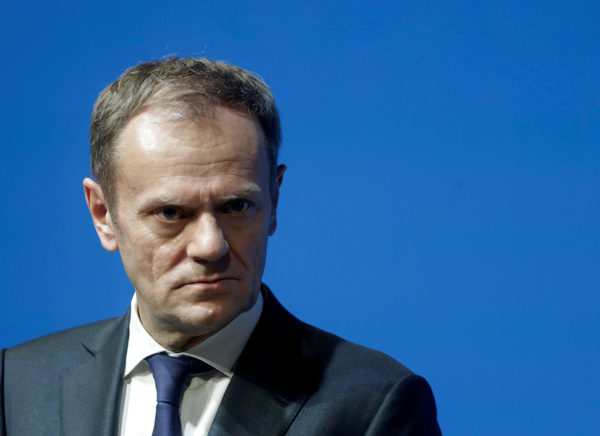 President of the European Council Donald Tusk listens during a news conference in Tallinn, Estonia, January 31, 2017.  [Photo/Agencies]
European Council President Donald Tusk described what he called "an increasingly assertive China" in an open letter to EU leaders this week and reiterated this during his meeting with the leaders of Estonia, Latvia and Lithuania before Friday's Malta summit.
Tusk said: "The challenges currently facing the European Union are more dangerous than ever before in the time since the signature of the Treaty of Rome 60 years ago...Today we are dealing with threats, which have previously not occurred, at least not on such a scale."
He said: "An increasingly assertive China, especially on the seas, Russia's aggressive policy towards Ukraine and its neighbors, wars, terror and anarchy in the Middle East and in Africa, with radical Islam playing a destructive role, as well as worrying declarations by the new American administration all make our future highly unpredictable."
Bernard Dewit, chairman of the Belgian-Chinese Chamber of Commerce said Tusk, whose institution is responsible for the EU's political direction, had made a "wrong assessment" by framing China as a danger to the EU.
He said: "I don't think this is a proper judgment as the South China Sea is quite a way away from the EU. China does not represent a military threat to the EU. It is very important for the EU to make a reasonable judgment on the situation at such a critical moment."
Dewit said China and the EU have faced problems as both sides attempt to penetrate each other's markets by expanding investment and trade.
He said: "Both sides need to take down-to-earth attitudes to solve these issues. China and the EU need to try and deepen cooperation."
On Friday, European Union leader will be preparing for a crucial meeting in Rome on March 25to celebrate the 60th anniversary of the Treaty of Rome, which gave birth to the European Economic Community.
Luigi Gambardella, president of China EU, a non-profit organization in Brussels that promotes bilateral digital cooperation said Tusk's statement shocked many of his Chinese friends.
He said: "As a matter of fact, his mistake was to confuse the term EU with the 500 million consumers living in the EU member states."
Gambardella said in the next five years, China is expected to import $8 trillion worth of goods, attract $600 billion of foreign investments and make $750 billion of outbound investment. Chinese tourists will make 700 million overseas visits.
"For the EU consumers and business, China is an opportunity," said Gambardella.
Men Jing, a professor at the College of European said she felt puzzled about Tusk's message for Friday's gathering and the Rome summit in March.
Men said: "Facing extreme internal and external difficulties, the EU leader has sent completely the wrong message. It is worrying to push important partners such as China away."
Men added: "I trust Tusk's messages are just his own opinions and most Europeans still view China as holding great opportunities."