Surge in Chinese tourists take in Israel's rich history and culture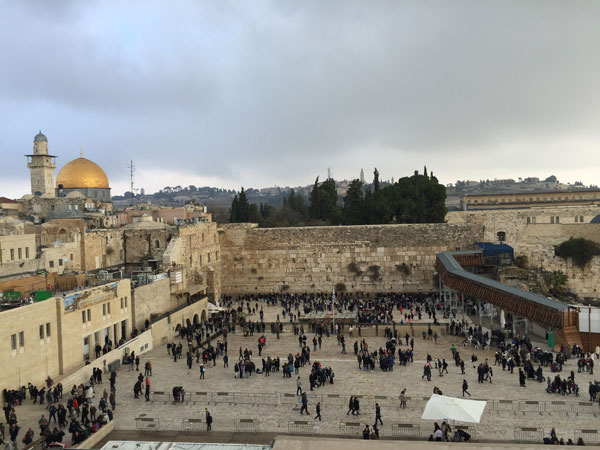 The Western Wall and Dome of the Rock in Jerusalem. Photo provided to China Daily
As the number of Chinese outbound tourists grows, Israel is cashing in on the lucrative market.
Israeli Central Bureau of Statistics reported that 76,400 Chinese tourists went to Israel between January and November last year, a massive 60 percent increase from 2015, making China its biggest growth market.
Figures from the Tel Aviv Hotel Association also show that the time Chinese tourists spent in the Tel Aviv region has grown 50 percent in 2016, more than any other country.
Wolfgang Arlt, director of China Outbound Tourism Research Institute, attributes the surge to new direct flights run by Hainan Airlines from Beijing to Tel Aviv to compete with El Al Israel Airlines the previous sole airline on the route. The competition has provided more flight options at cheaper prices.
Cathay Pacific is expected to start flying from Hong Kong to Tel Aviv this year offering even greater connection options from China.
Arlt said Israel's introduction of 10-year multiple entry visas for Chinese citizens also made it easier for Chinese travelers, as it not only allows tourists to stay longer but also go to nearby Jordan and Egypt without problems on return.
At a time when the list of potential holiday destinations is increasing in the minds of Chinese tourists, travel pundits say uniqueness and authenticity are key selling points.
"As a travel destination, I think that Israel has many distinct and unique features, such as cultural background or historic heritage sites," said Oliver Sedlinger, of international tourism consultants Sedlinger & Associates.
Sedlinger said that despite the complex political environment, Israel is located in a very culturally interesting region of the world, offering rich and very developed tourism infrastructure.
Tour operators in Israel are seeing a more demand from the Chinese tourism sector as seasoned Chinese travellers are inspired to explore new and exotic destinations.
Ben Julius, founder of TouristIsrael.com, said the company is experiencing huge growth in Chinese travellers on their tours, including both individuals and travel groups.
Among the most popular attractions for Chinese tourists, Julius listed Jerusalem and, in particular, the Old City as a unique destination, with rich content,.
"To name a few, the Dead Sea where floating in the waters and bathing in the muds is a great photo opportunity for the Chinese, Masada where the story of Jewish heroism is fascinating to visitors, and Tel Aviv whose hi-tech economy and culture are world-class."
To some Chinese travellers, Israel has been an eye-opening experience.
Li Jiayang, who spent two weeks in Israel recently, said the whole journey was a highlight of her life as it shocked her emotionally.
"I was able to learn and feel the thousand years of history that just passing through me when I was standing in front of the Western Wall, and I could not stop myself from crying out of no reason," she said.
Reading is a must, not an optional before visiting the country, Li said, adding "one needs a solid understanding of the history of the holy land to appreciate the country".
"This is a place for you to realize how much knowledge you are still lacking, to push you to learn more and stay humble," she said.