Quebec mosque suspect charged with murdering six people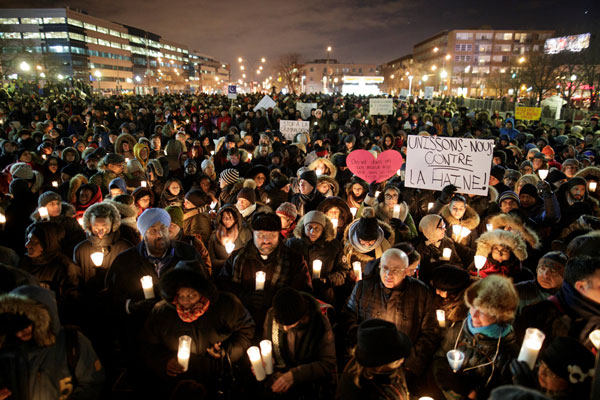 People attend a vigil in support of the Muslim community in Montreal, Quebec, Jan 30, 2017.[Photo/Agencies]
FATHER OF FOUR KILLED
A father of four, the owner of a halal butcher near themosque, was among those killed, said Pamela Sakinah El-hayet, afriend of one of the people at the mosque.
The mosque concierge was killed, as was Ahmed Youness, a21-year-old student, El-hayet told Reuters. One of El-hayet'sfriends, Youness' roommate, was in the mosque at the time of theshooting. He was unharmed, she said, but in total shock.
A man of Moroccan descent who had also been arrested was nowconsidered a witness, although his nationality was notimmediately known, a Canadian source familiar with the situationsaid.
Ali Assafiri, a student at Université Laval, said he hadbeen running late for the evening prayers at the mosque, nearthe university in the Quebec City area. When he arrived, themosque had been transformed by police into a crime scene.
"Everyone was in shock," Assafiri said by phone. "It waschaos."
Vigils were planned for Montreal and Quebec City, theprovincial capital, as well as in Edmonton. There was anoutpouring of support for the mosque on social media.