Many Chinese travelers hunting for UK property
More than half of the Chinese people traveling during the Lunar New Year holidays plan to hunt for international property, according to a new survey of consumers and agents carried out by property website Juwai.com.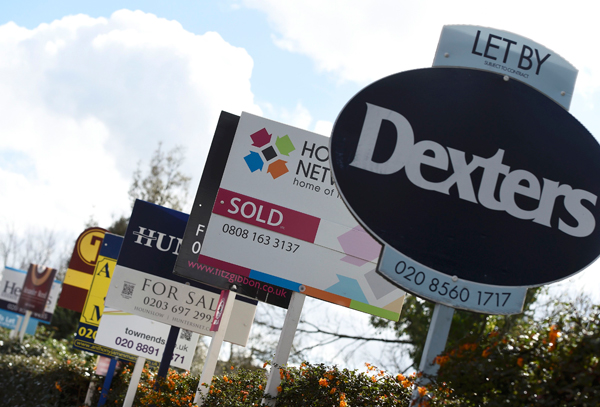 Property estate agent sales and letting signs are seen attached to railings in London, Britain in this file photo taken on March 30, 2016.  [Photo/Agencies]
The statistics were released after Juwai.com surveyed 120 Chinese consumers about their travel plans for the New Year period. They also quizzed 1,209 international real estate professionals, including 184 from the United Kingdom.
The survey shows 57 percent of Chinese buyers plan to purchase property in the countries they travel to. Another 26 percent said they may consider doing so.
Jean Liggett, managing director of property investment consultancy Properties of the World, said: "The impending Chinese New Year is a key time for Chinese property investors. With a whole week off for Golden Week, it's an ideal time for buyers to scour the planet for enticing investment opportunities."
Charles Pittar, CEO of Juwai.com, said wealthier buyers are more likely to combine property hunting with tourism. Most realtors expect this year to be busier than last.
According to the survey, 12 percent of UK estate agents have been contacted by buyers who plan to visit during Chinese New Year while 54 percent expect the season to be busier than 2016.
Cities such as Manchester are seeing a rise in the number of Chinese buyers, said Jonathan Stephens, managing director of UK-based property consultancy Surrenden Invest.
"Chinese New Year provides prospective investors with the time to travel and explore the Manchester market before making final property purchases," he said. "We expect buyers from China to take this opportunity and believe that as interest in the market continues to rise, many will make Manchester their top destination of choice."
He added that Chinese investors' interest in the local property market had increased with Manchester's prestige as an investment hotspot because of such initiatives as the Northern Powerhouse which gave it a chance at rivaling London as the buy-to-let capital of the UK.
Property pundits say the low value of the pound caused by the UK's impending departure from the European Union has added fuel to the fire.
"While currency traders have deserted Great Britain, Chinese buyers have embraced it," said Bernie Morris, president of the UK, Europe and the Middle East for Juwai.com. "Chinese consumers are going all-in on the country's future by purchasing property.Chinese like the UK for its prestige, value, liquidity, potential capital gains and premier educational institutions."