British retailers brace for Chinese New Year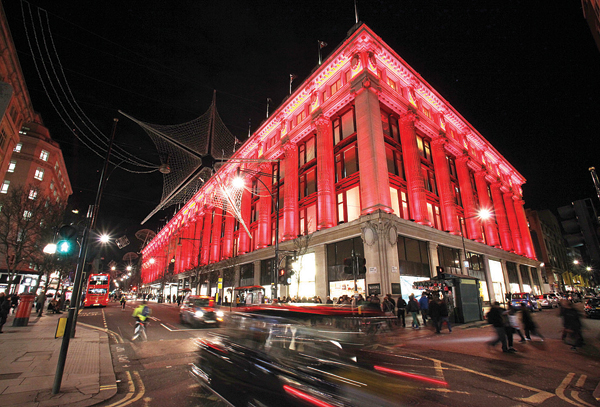 Selfridge's glows red.

GARETH DAVIES/CHINA DAILY
Payment companies are predicting a huge spike in shopping transactions as Chinese tourists descend on British stores during the Lunar New Year, and retailers are responding with a host of deals and promotions.
Thousands of Chinese travelers will come to the United Kingdom for the week-long Spring Festival holiday, which starts on Saturday, according to airline bookings, which are up more than 80 percent on routes between China and the UK compared to last year.
UK-based merchant service Worldpay estimates Chinese visitors will shell out more than 11 million pounds ($13.9 million) in London alone during the coming week.
Spending on Chinese bank cards is likely to be 40 percent higher than the average for this time of year, as bargain-hunting" Brexit tourists" take advantage of favorable exchange rates.
"With the weakened pound, London is much cheaper this year for Chinese visitors, and we expect popular shopping destinations to reap the benefits from the influx of free-spending tourists," said Worldpay Chief Marketing Officer James Frost. The impact is already being felt-sales to Chinese shoppers in London's West End were up 121 percent in the week prior to Chinese New Year, according to data collected by management services company New West End and financial services company Premier Tax Free.
"To put this into perspective, domestic and European spend in the same period were up by just 10.2 percent and 12.6 percent respectively," said Jace Tyrrell, chief executive of New West End. "The Spring Festival has long been a key date in the West End calendar."
A number of luxury brands, department stores and shopping areas are attempting to lure customers with Chinese New Year-themed promotions, products and events.
On Saturday, London's Regent Street will host two "celebration trees" that bear red envelopes with discount vouchers for a number of stores, restaurants and bars.
From now until Feb 5, shopping outlet Bicester Village, the second-most-visited UK destination among Chinese tourists behind Buckingham Palace, will offer up to 60 percent in discounts at selected stores to shoppers carrying a Chinese New Year invitation.
Both Harrods's contemporary Chinese restaurant Chai Wu and Fortnum& Mason's Gallery restaurant are of ering special Chinese New Year menus through most of February and Selfridge's Oxford Street storefront will be lit up red on Friday evening.