British gov't to put bill before Parliament to start exit process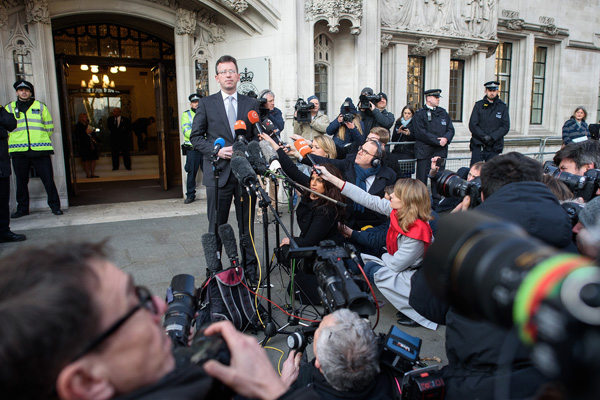 Attorney General Jeremy Wright speaks outside the Supreme Court in Parliament Square following a majority ruling against the government, on January 24, 2017 in London, England. Judges ruled by a majority of 8 to 3 that the government cannot trigger Article 50 without an act of Parliament. [Photo/VCG]
LONDON - Theresa May's government will put a bill before the British parliament within days to trigger the country's exit from the European Union, the House of Commons was told Tuesday.
The announcement to MPs (members of the Parliament) by Brexit Secretary David Davis came just hours after the highest court in Britain, the Supreme Court, ruled that the prime minister could not start the process of leaving the EU without first gaining approval from the British Parliament.
The 8-3 majority decision by the judges has been described as one of the most important constitutional rulings in British legal history.
In its decision, the judges also ruled that the government did not need to seek the approval for Brexit from the devolved parliaments in Scotland, Wales and Northern Ireland.
Scotland's first minister Nicola Sturgeon criticized the decision, raising fears the region could pave the way for a new Scottish independence referendum if the will of the people of Scotland, who voted remain, is ignored.
SNP MPs at Westminister have warned they will put forward 50 amendments to the forthcoming "article 50" bill when it is presented to the House of Commons.
The ruling announced by Supreme Court President Lord Neuberger was hailed as a victory for democracy by wealthy Investment fund manager Gina Miller, who brought the case to the courts.
Just three hours after the decision was announced Secretary Davis made a statement to a packed House of Commons.
Sitting alongside Theresa May, Davis announced that the government will introduce a short parliamentary bill within days to trigger article 50. It will be the most straightforward bill possible, he added.
He insisted that the government will respect the will of the British people to leave the EU following the countrywide referendum last June.