Parliament or PM? UK's Supreme Court to rule on Brexit case
LONDON — Britain's Supreme Court will rule Tuesday on whether the prime minister or Parliament has the right to trigger the process of taking Britain out of the European Union.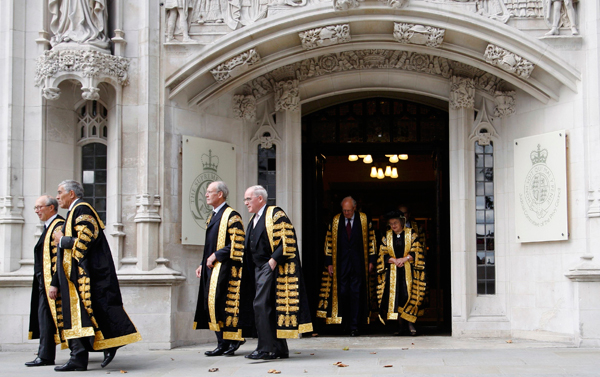 Justices of the Supreme Court leave the Supreme Court of the United Kingdom in Parliament Square in London, in this file photograph dated October 1, 2009.  [Photo/Agencies]
The 11 justices will either uphold an earlier ruling giving Parliament a direct role in invoking Article 50 of the EU's Lisbon Treaty or reject that ruling in favor of the government's claim it can do so without a vote in Parliament.
Article 50, which has never been used before, starts the formal process of taking Britain out of the 28-nation EU bloc, a move favored by 52 percent of voters in the June referendum that has upended British politics.
The Supreme Court case is viewed as the most meaningful constitutional test in recent decades because it addresses a question central to British law: the dividing line between the powers of Parliament and the power of the executive.
The government says it can use "prerogative powers" dating back to medieval times to start the EU divorce process, but the High Court ruled in November that it could not act without a parliamentary vote.