Trump's first full day in office: intelligence, media, mass protests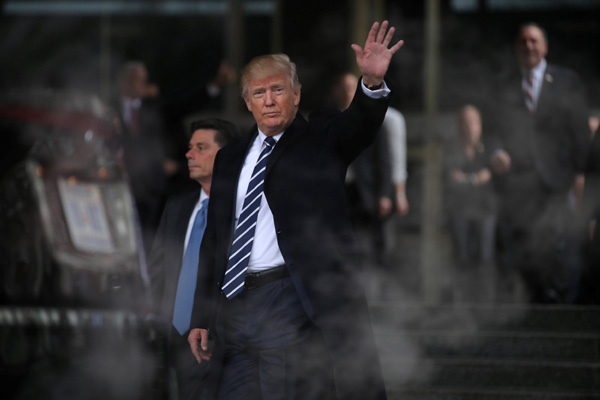 US President Donald Trump waves as he leaves the Central Intelligence Agency (CIA) headquarters after delivering remarks during a visit in Langley, Virginia US, January 21, 2017. [Photo/Agencies]
WASHINGTON - It seems surreal but in fact real: US President Donald Trump spends his first full day in office on Saturday denying his feud with the CIA, ignoring the massive protests against him, and blasting the media over lessening his inaugural crowd.
The fights greatly overshadowed the new president's three diplomatic moves announced in the day: to eradicate "radical Islamic terrorism," to host British Prime Minister Theresa May as first visiting foreign leader on Thursday, and to meet with his Mexican counterpart Enrique Pena Nieto on Jan 31.
At the CIA headquarters in Langley, Virginia, Trump described radical Islamic terrorism as "evil" unseen before and should be "eradicated just off the face of the Earth."
"We gonna end it. It's time. It's time right now to end it," Trump told hundreds of CIA staff, offering no details of his plan.
However, public attention was diverted when he quickly turned to attack the US media over their reports about his inaugural crowd size and his feud with the intelligence community.
At the CIA headquarters, he scolded the US media as "the most dishonest people" by reporting his feud with the intelligence agencies, although he previously slapped them in public for leaking reports that Russia may have "compromising materials" about him.
He further accused the media of lying about the number of people attending his inauguration on Friday. Earlier estimates put the crowd gathered for Trump's inauguration at about one-third the size of Obama's in 2009.
"I get up this morning and I turn on one of the networks and they show an empty field. I said wait a minute, I made a speech, I looked out, the field was, it looked like a million, a million and a half people. They showed a field where there were practically nobody standing there," he told the CIA staff.
"So, we caught" the media, Trump said, "and we caught them in beauty. And I think they're going to pay a big price."
Hours later, White House spokesman Sean Spicer used his first official appearance in the press briefing room to criticize the US media for the coverage of Trump's inauguration crowd, blasting their reports on the crowd size as "shameful and wrong."