Uncertainty reigns in China-US relations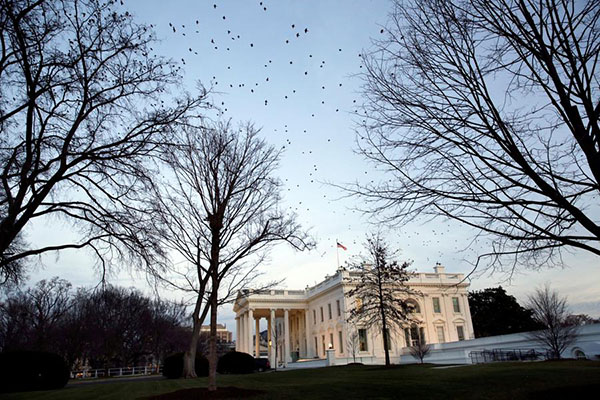 The White House is seen in Washington, US, January 19, 2017. [Photo/Agencies]
It is said that the US news media take Donald Trump literally but not seriously, while his supporters take him seriously but not literally.
When the New York real estate tycoon takes office today as the 45th president of the United States, the world will listen carefully to the message coming from his inauguration speech. Especially China.
Unlike his recent predecessors, Trump is seen as full of uncertainty and unpredictability by the rest of the world, including many foreign policy experts on China-US relations.
As president-elect, Trump broke a four-decade US diplomatic protocol in early December by speaking on the phone with Taiwan leader Tsai Ing-wen. He told The Wall Street Journal last week that the "One China" policy is negotiable.
During his presidential campaign, Trump talked about slapping 45 percent tariffs on Chinese exports, triggering wide concern about a possible trade war between the world's two largest economies. He has also vowed to name China a currency manipulator once in office.
The 70-year-old Trump has also caused anxiety among US traditional allies by saying that Japan should pay more for the US military stationed there. Early this week, he called NATO obsolete.
Michael Pillsbury, a senior fellow and director of the Center for Chinese Strategy at Hudson Institute and an adviser to Trump's transition team, noted that Trump mentioned in his 2016 campaign book Great Again his admiration for China's negotiation skills, and said he wanted to appear "unpredictable" to the Chinese.
"In this, he has richly succeeded," Pillsbury wrote in his Jan 13 article posted on Hudson's website.