Theresa May tries to dispel Brexit worries at Davos forum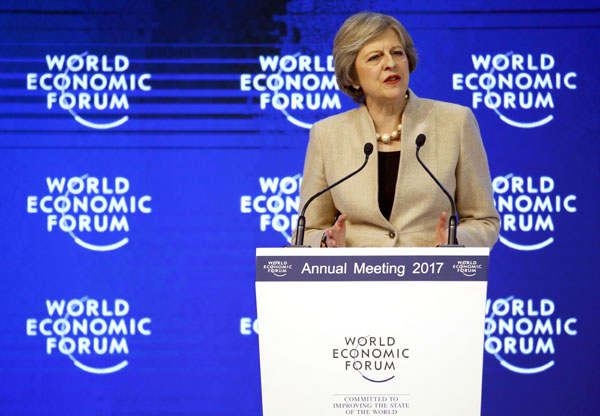 Britain's Prime Minister Theresa May attends the World Economic Forum (WEF) annual meeting in Davos, Switzerland January 19, 2017. [Photo/Agencies]
DAVOS -- Two days after announcing a "hard Brexit" objective, British Prime Minister Theresa May was trying to assuage global concerns about Brexit in a special address on Thursday at the World Economic Forum in Davos.
"We are going to be a confident country that is in control of its own destiny," May told assembled leaders in business and politics.
"A country in control of its destiny is more, not less, able to play a full role in underpinning and strengthening the multilateral, rules-based system" of global trade, she said.
She said that a new, more global Britain would fight for free markets, free trade and globalization.
"The United Kingdom -- a country that has so often been at the forefront of economic and social change -- will step up to a new leadership role as the strongest and most forceful advocate for business, free markets and free trade anywhere in the world," she asserted.
In a decisive speech on Tuesday that sets a course for a clean break with the EU, May promised to quit the European single market and seek a free trade agreement with the EU.
She also pledged to restrict access to Britain by EU citizens and end the jurisdiction in Britain of the European Court of Justice. The 12-point blueprint was dubbed a "hard Brexit".
May repeated the message that Britain was not turning its back on Europe.
"We are a European country and proud of our European heritage, but we are also a country that has always looked beyond Europe," she said.
Referring to an ambitious free trade deal with the EU at the heart of the plan being set out, she also held up the need to strike new trade deals elsewhere around the world.
Uncertainty has hung over Brexit ever since British citizens voted in a referendum last June to leave the EU.