UN chief Ban Ki-moon retires to rings of praise and drums of criticism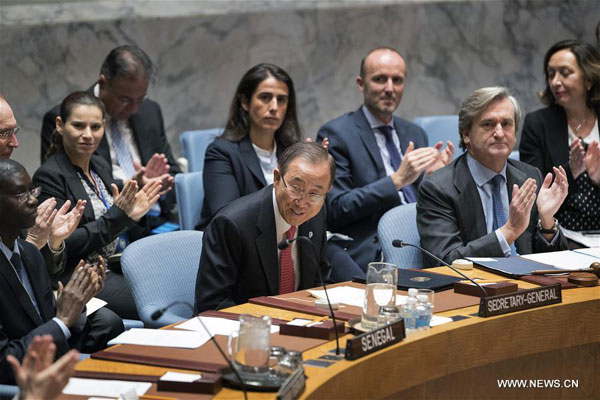 UN Secretary-GeneralBan Ki-moon(C, front) is seen during a meeting held by theUnited NationsSecurity Council to pay tribute to him at the UN headquarters in New York, Dec 14, 2016. [Photo/Xinhua]
UNITED NATIONS -- UN Secretary-General Ban Ki-moon, after racking up the Paris Climate Change Agreement and the 2030 Agenda for Sustainable Development Goals (SDGs), has been lavished with praise in the last days of his 10-year tenure although he has been also criticized on other fronts.
The 72-year old former foreign minister of South Korea steps down Dec 31, after serving the maximum two terms of five years each. He will be replaced by a former prime minister of Portugal, Antonio Guterres, 67, who headed the UN refugee agency (UNHCR) for 10 years, ending last year.
Ban's departure does not necessarily mean his disappearance.
It is widely speculated he may be the next president of South Korea and only the other day Ban indicated he will consider upon retirement involvement in South Korea politics which he described as in "turmoil" after impeachment of scandal-wracked President Park Geun-hye earlier this month.
The 193-member UN General Assembly and the 15-nation UN Security Council recently passed resolutions honoring his work. Representatives of regional organizations and member states lauded his tenure.
Ambassador Maythong Thammavongsa of Laos, speaking on behalf of Asian and Pacific countries in the Assembly, praised Ban as a "secretary-general who has displayed such great professional and personal qualities and who has contributed, through many initiatives that have been welcomed by all, to helping the Organization to make progress towards modernization and democratization."
The praise also was extensive outside UN Headquarters, with personal congratulations ringing from leaders such as US President Barack Obama to Mayor Bill De Blasio of the City of New York, UN Headquarters host city, who proclaimed Dec. 13, 2016 as "Secretary-General Ban Ki-moon Day."
The UN chief was widely praised more inside UN headquarters than he was afield where his ratings were mixed.
"The recent outpouring of praise for Ban is well intentioned but rather excessive," Richard Gowan, UN expert at the European Council on Foreign Relations, told Xinhua News Agency last week. "Ban certainly deserves credit for his hard work, and his commitment to fighting climate change in particular."
The Paris accord calls for limiting the global temperature rise this century to well below 2 degrees Celsius above pre-industrial levels.
Also, the 17 SDGs that nations agreed to in 2015, under Ban's stewardship, seek to "leave no one behind" in sustainable development by 2030.
Gowan said Ban "struggled with significant parts of his portfolio, and was especially weak when it came to crisis management."
One such scandal was sexual exploitation and abuse by UN peacekeepers, particularly in the Central African Republic (CAR).