Preliminary flight recorder data helps narrow down cause of deadly Russian plane crash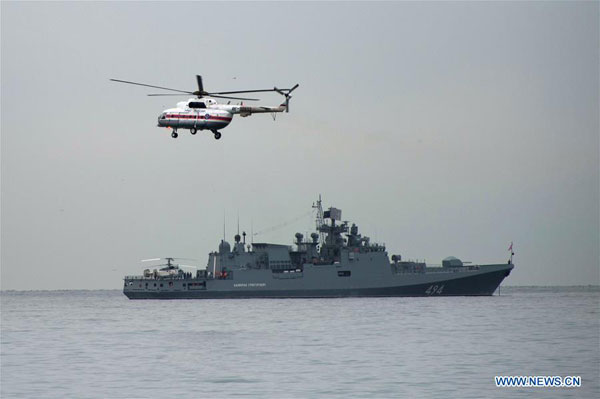 Photo taken on Dec. 27, 2016 shows a navy ship and a helicopter taking part in a rescue operation on the Black Sea coast at the crash site of Russian Defense Ministry's Tu-154 aircraft near Sochi, Russia. [Photo/Xinhua]
MOSCOW -- Preliminary data from the main flight recorder of the crashed Russian Tu-154 aircraft would help narrow down the cause of the tragedy that killed 92 people aboard, the Russian Defense Ministry said Tuesday.
The ministry said experts from the Central Research Institute of the Russian Air Force are continuing to decipher the data from the main flight recorder, also known as the black box, after it was retrieved early in the day and delivered to a settlement near Moscow.
Meanwhile, the RIA Novosti news agency quoted an unnamed security source as saying that rescuers have located the two remaining black boxes, which have not yet been brought to surface.
A large number of plane fragments and body parts have also been found at a depth of about 200 meters into the Black Sea, the Russian media added.
The ill-fated Tu-154, en route to Russia's Hmeimin air base in the Syrian port city of Latakia, crashed shortly after takeoff from the Black Sea resort city of Sochi early Sunday morning.
92 people -- 84 passengers and eight crew members -- were aboard the plane. Most of them were members of the Alexandrov Ensemble, a renowned choir of the Russian Armed Forces, as well as nine Russian journalists. They were heading to the air base for New Year celebrations.