Sao Tome restores ties with Beijing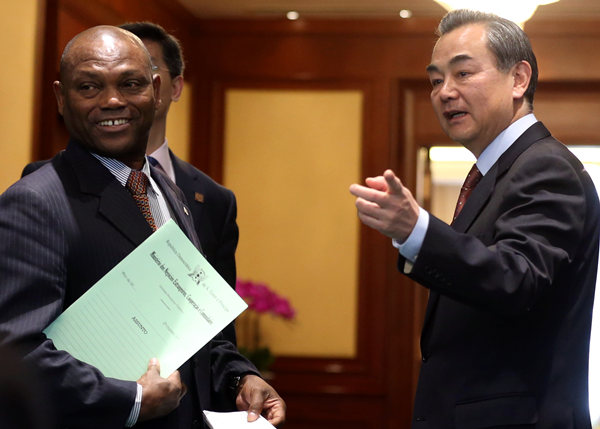 Foreign Minister Wang Yi and Urbino Botelho, his counterpart from the African island nation of Sao Tome and Principe, share a light moment before they meet journalists in Beijing on Monday to discuss the nations' resumption of diplomatic relations. Feng Yongbin / China Daily
China and the African island nation of Sao Tome and Principe resumed diplomatic relations on Monday, a move experts see as a clear warning to Taipei of a possible flood of breaks with its "diplomatic allies".
Also on Monday, a group of warships from the mainland, led by the country's only aircraft carrier, the CNS
Liaoning, steamed through the northern portion of the South China Sea after passing south of Taiwan, Reuters quoted the island's "defense ministry" as saying.
Beijing said on Saturday that the Liaoning had set off for a routine exercise in the Western Pacific.
In Beijing, Foreign Minister Wang Yi and his counterpart from Sao Tome and Principe, Urbino Botelho, signed a joint communique to resume diplomatic ties at the Diaoyutai State Guesthouse. The ceremony on Monday came after the African nation broke ties with Taipei last week.
"We need to acknowledge that China is playing an increasingly important role internationally," Botelho said when meeting reporters with Wang. "We want to make good on our past mistakes."
Beijing suspended its relationship with the nation in 1997 after it established "diplomatic ties" with Taipei.
Botelho said his country now expects more Chinese investment and tourists.
"We are happy to see that Sao Tome and Principe has conformed to the tide of history by looking at the facts and long-term interests of both countries' peoples," Wang said.
The disruption of ties between Sao Tome and Principe and Taiwan came after US president-elect Donald Trump irritated Beijing by accepting a phone call from Taiwan leader Tsai Ing-wen on Dec 2, breaking with diplomatic precedent.
He Wenping, a researcher at the Institute of West Asian and African Studies of the Chinese Academy of Social Sciences, said the move was a "wake-up call" for Tsai to avoid undermining the one-China principle during her upcoming trip to Latin America in January. She is also expected to pass through the United States.
"Or she'll face an avalanche of breaks in 'diplomatic allies' with Taiwan. ... Sao Tome and Principe is just the tip of the iceberg," He said.
Taiwan now maintains "official" ties with 21 countries and governments, mostly in Latin America and the Caribbean.
Yu Wensheng, a researcher in African studies at the China Institutes of Contemporary International Relations, said Sao Tome and Principe wants to "ride China's economic express train in Africa and build a diversified and sustainable economy".
"China has the capital and technologies to help it create a healthy economy through win-win cooperation that far outweighs any gift money," Yu said.