Soldier transporting bus hit by explosion in central Turkey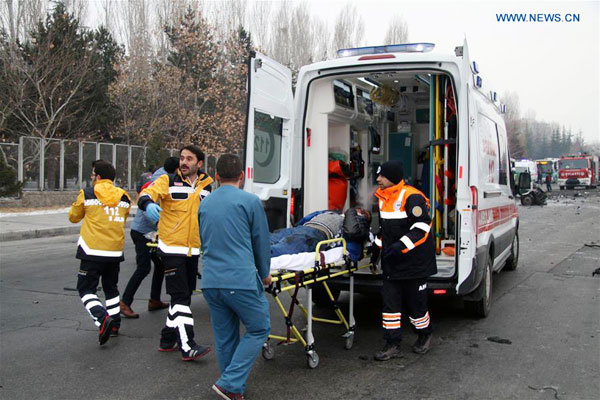 Rescuers transport an injured person at a site of bomb attack in Kayseri, Turkey, Dec 17, 2016. [Photo/Xinhua]
ANKARA - A bus transporting soldiers was hit by an explosion near Erciyes University in the central Turkish city of Kayseri early on Saturday, wounding an unknown number of people, security sources said, Hurriyet News reported.
Ambulances were sent to the area after the explosion, the sources said. Turkey's Dogan news agency said the blast hit the bus as it drove past a car believed to be packed with explosives. Local hospital sources confirmed some dead after explosion.
Turkish Prime Minister Binali Yildirim has reportedly cancelled his visit schedule and is holding a security meeting.
Meanwhile, Turkey's media watchdog, the Radio and Television Supreme Council, announced a gag order on reporting the explosion.
The blast came a week after a twin bombing outside an Istanbul soccer stadium killed more than 40 people and wounded more than 100, an attack claimed by Kurdish militants.