EU agrees on approach to Brexit talks, PM May left out in cold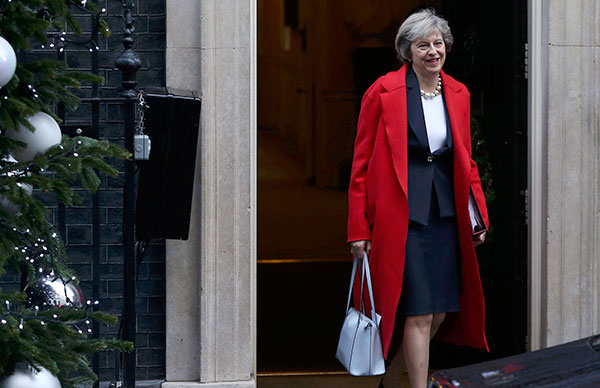 File photo shows Britain's Prime Minister Theresa May leaves Downing Street in London to attend her final Prime Minister's Question Time of 2016, Britain December 14, 2016. [Photo/Agencies]
BRUSSELS - European Union leaders agreed their plan for Brexit negotiations on Thursday, pledging to move swiftly and stick together to ensure Britain does not cherry pick a sweet deal that might inspire others to unstitch the bloc.
Prime Minister Theresa May left before the other 27 leaders met briefly to formalise their plan for how to run Brexit talks.
Before heading home, diplomats said May had assured her European partners that she would launch the two-year process by the end of March despite how London judges rule in a constitutional court case that some say might jeopardise her timetable.
"It's right that the other leaders prepare for those negotiations as we have been preparing," May told reporters.
The 27 issued a statement saying they were "determined to see the Union succeed", and were ready to negotiate quickly to "tackle the uncertainties" raised by the prospect of Brexit.
But "any agreement will have to be based on a balance of rights and obligations", they insisted, and reject British attempts to remain in the EU's single market if it does not accept free immigration from the continent - one of four key freedoms of the Union which British voters rejected in a June referendum.
After months in which exasperated continentals have mocked divisions within May's government over what kind of deal Britain should seek, her exhortations to the others to get on with their preparations sounded a shade ironic. But in fact Brussels did see a wobble in its facade of unity as the European Parliament grumbled that EU leaders were freezing it out of negotiations.
After warnings from senior lawmakers that the legislature risked withholding its consent to any final divorce deal if it was not included throughout the talks, national leaders offered an olive branch, saying they could attend preparatory meetings.