Home / World / Asia-Pacific
Kids Read throws Christmas party for primary school students in Beijing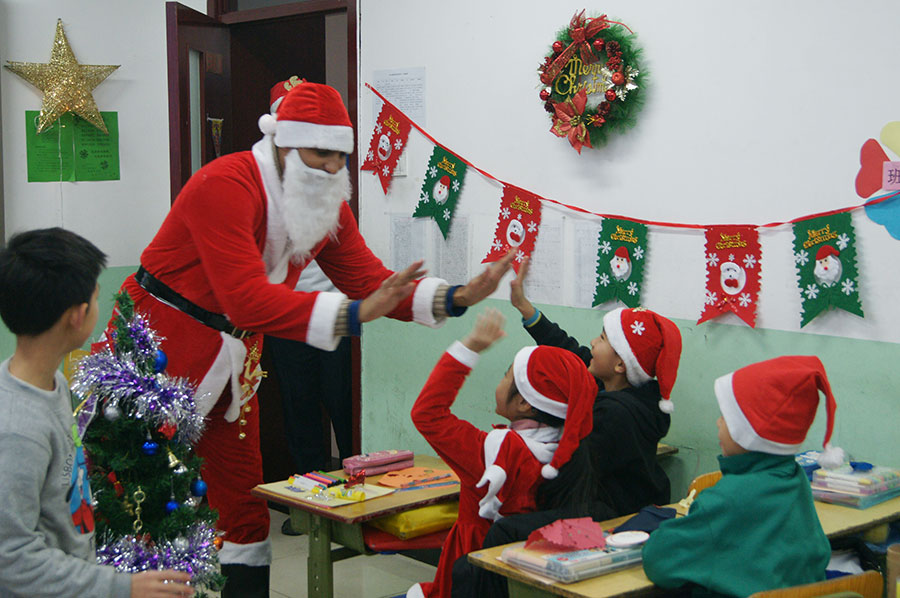 Dane Terrence Leo dresses like Santa and gives high fives to the students. [Photo provided to chinadaily.com.cn]
Kids Read China project held a Christmas party for primary school students in Beijing on Thursday. The aim of the event was to teach the children about Christmas tradition and provide them a chance to practice English. This was the second community event to be held in Beijing since the project moved to China in 2016.
Supported by HSBC and developed and delivered by the British Council, the project aims to promote a love of reading in primary students, with the long-term goal of improving academic performance, language and critical thinking.
Students from Grade 1 to 5 of Yinghuayuan Primary School prepared different things for Santa's visit, from tiny Christmas trees to Christmas posters.
Each class also learned a different Christmas song with a short dance routine. Santa and his helpers then visited each class and the best performers were awarded prizes.
HSBC volunteers played Christmas coloring games with the students, with all the communication conducted in English. The children also learned stories about Christmas such as why Christmas is celebrated through a quiz, and the grade 1 was the surprise winner. Every student wrote a card to Santa afterwards in which they described what they would like for Christmas.
Teachers from the British Council assisted in the training of teachers of Kids Read project and enriched their English teaching skills during the past three months.
Education personnel exchange is a part of the fourth China-UK High Level People to People Dialogue, which kicked off in Shanghai on December 6.
British Council contributed to this story.