Chinese woman opens her door to fleeing Myanmar residents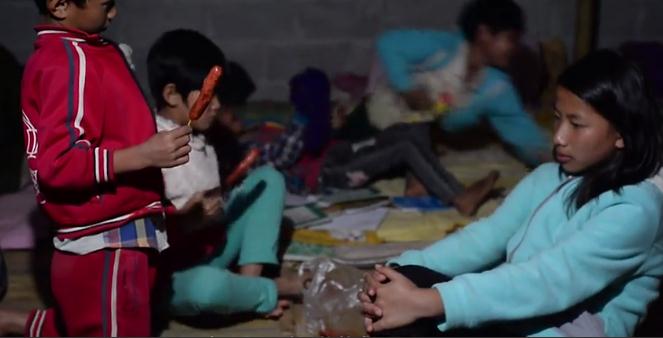 Myanmar children eat sausages at Li's home. [Photo/screenshot from online video of thepaper.cn]
Li Mumiao, 32-year-old Chinese, has fed and sheltered over a hundred Myanmar residents who fled to China after armed clashes broke out on November 20, with most of them elderly and children, according to thepaper.cn.
Li, her husband, and three children live in a one-bedroom house in Manghai, Southwest China's Yunnan province, just a few yards from the official resident camps. Two temporary bamboo shacks shelter dozens of people. The others sleep on the ground of Li's yard, using beddings provided by Li and the government to stay warm at night.
"Heavy gunfire can be seen and heard across the border and we can barely sleep during the night," said Li.
Most of the Myanmar residents brought no belongings with them when they escaped the fighting, and few of them had food. Li provides them food and has made the "soup kitchen" a reality thanks to the donation of local residents.
Pickles, vegetables, and steamed rice in barrels are now part of regular dinner for Li's family and the Myanmar residents.
Li is not rich at all. The family moved to Manghai from a mountainous area three years ago. Li and her husband, who have the additional burden of tuition fees of their three children, make a living by farming and doing small business and live a hand-to-mouth life. "I am not rich, but they are poorer than me. I cannot be indifferent to their suffering," said Li.