Thanksgiving parade celebrated in New York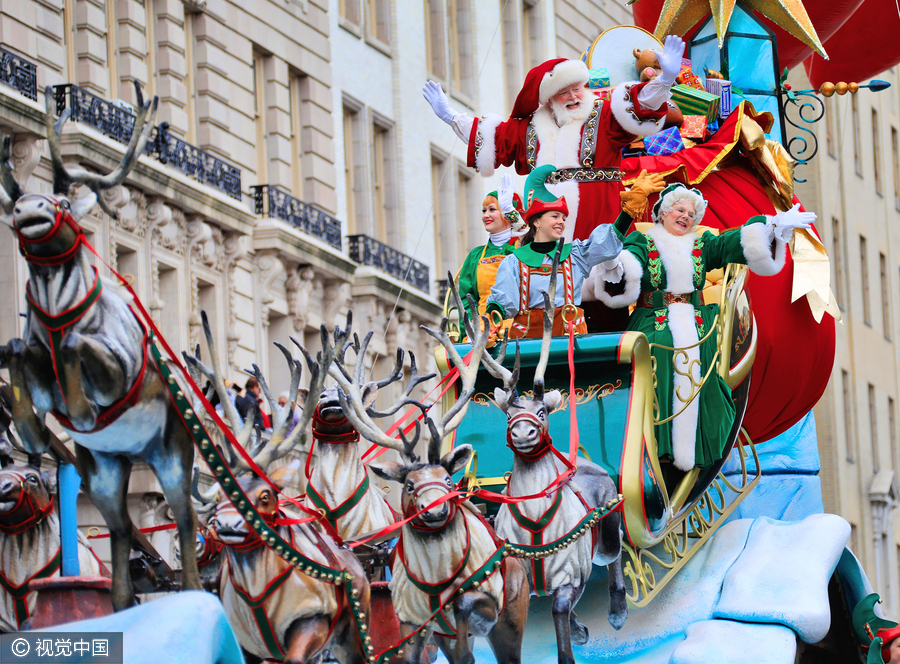 Santa Claus and Mrs. Claus seen during the 90th Annual Macy's Thanksgiving Day Parade in New York City, US, on November 24, 2016. [Photo/VCG]
NEW YORK - The 90th Macy's Thanksgiving Day Parade in New York City kicked off on Thursday among unprecedented law enforcement presence as millions of spectators gathered along the route to marvel at the annual spectacle.
Approximately three thousand law enforcement officers, many of them carrying assault rifles and walking bomb-sniffing dogs, were deployed within and around the parade route. More than 80 sand-filled sanitation trucks could be seen at key points including street intersections, serving as barriers against potential attacks.
The heightened security force came as a recent arrest of a Brooklyn resident who allegedly attempted to join ISIS and expressed support of a terrorist attack in New York City. However, city officials said there was no specific or credible threat.
The parade stated around 9 am from Upper West Side of Manhattan and proceeded to Macy's flagship store at Herald Square on 34th Street.
Famous for the huge balloons and floats, this year' s parade featured 16 giant character balloons, 27 smaller novelty balloons, 26 floats, more than one thousand cheerleaders and clowns, 16 marching bands and performance groups.
The floats included one from Chengdu, China. Featuring pandas, the Dujiangyan dam and Qingcheng mountain, the float attracted lasting applauses and cheers.
"It was so exciting to see the parade in person," said Maxine Thomas from the state of Texas.
3.5 million people were expected to come and see the nationally televised parade that kicks off the holiday shopping season. Another 50 million will be watching the celebration from home.