India train crash death toll reaches 120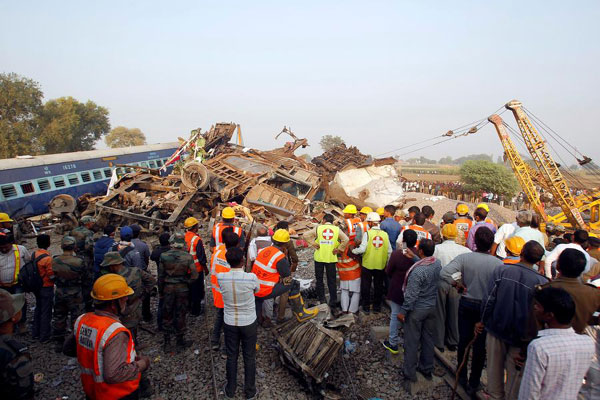 Rescue workers search for survivors at the site of a train derailment in Pukhrayan, south of Kanpur city, India November 20, 2016. [Photo/Agencies]
NEW DELHI - The death toll in deadly train crash on Sunday in northern Indian state of Uttar Pradesh has reached upto 120, police said.
Another 200 are reported to be injured in the accident.
The crash occurred following derailment of 14 carriages of the Indore-Patna Express train early Sunday at 03:00 am (local time) near Pukhrayan town of Kanpur Dehat district, about 149 km southwest of Lucknow, the capital city of Uttar Pradesh.
"The death toll is over 115," Uttar Pradesh Police Chief, Javed Ahmad said.
Officials said the death toll which has been rising steadily during the day is likely to increase further. Reports said over 500 passengers were on board in the train.
The ill-fated train was traveling from Indore city of Madhya Pradesh and destined to reach Patna city in Bihar.
Rescuers using gas cutters to cut through the smashed metal coaches were searching for injured and bodies trapped inside. The rescue efforts were going on until late.
According to the railway officials, cause of the derailment leading to deadly crash was being ascertained.
Authorities have cancelled and diverted several trains after the accident along the track.
Witnesses told local media they woke up to a deafening bang and found themselves thrown around.
"I was asleep and suddenly woke up to a deafening noise, after which I found myself thrown on the floor of the coach," Amit Krishna a witness said. "Later on I saw coaches overturned with injured crying out in pain and several bodies scattered around."
Hours after the crash authorities pressed in heavy machinery to pull the survivors and rushed teams of army personnel, doctors to join rescue workers.
Officials said the injured were removed to the nearest hospitals.