S. Korean prosecutors see scandal-hit president as criminal suspect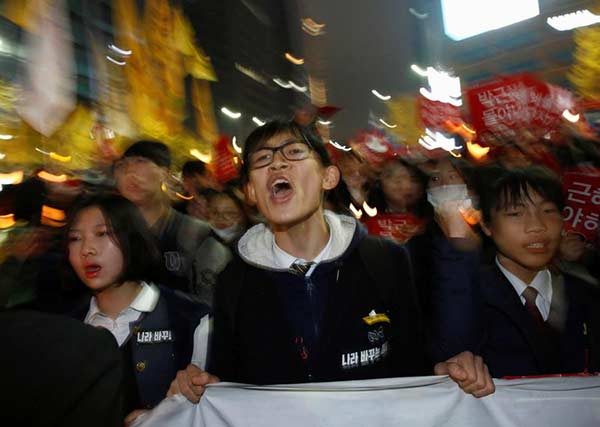 Middle school and high school students shout slogans at a protest calling South Korean President Park Geun-hye to step down in Seoul, South Korea, November 19, 2016. [Photo/Agencies]
 SEOUL - South Korean prosecutors said Sunday that President Park Geun-hye is suspected of having conspired with her longtime confidante and former aides, indicating the scandal-hit president will be seen as a criminal suspect in a future investigation.
President Park has a complicity "to a significant extent" with the three criminal suspects in multiple offenses, the head of a special investigative unit in the Seoul Central District Prosecutors' Office in charge of the case told a televised press conference to announce its interim investigation results.
It indicated the prosecution office regards the incumbent president as a criminal suspect in its investigation. The special unit chief said such interim results are based on comprehensive evidence materials collected by prosecutors.
Park, however, cannot be indicted for criminal charges as the country's constitution bans a sitting president from being criminally indicted until a single, five-year term ends.
Prosecutors plan to continue an investigation into the president, the special unit head said, as the incumbent leader can be placed under a criminal investigation if the indictment is suspended by the end of presidency.
It means the case surrounding President Park would be put on trial after her tenure ends. Park has about 15 months left in office.
The prosecution office requested a face-to-face questioning of the scandal-plagued president earlier this week, but Park's attorney delayed it to next week citing lack of preparations.
Park would be hard to avoid a direct questioning of herself in the coming week as prosecutors showed a strong will to look into the president.
The interim announcement is expected to have a huge impact on the political arena. A president has immunity from criminal indictment, but the chief executive can be impeached if he or she commits wrongdoings while in office.