Trapped Chinese tourists safely evacuated from quake-hit area in New Zealand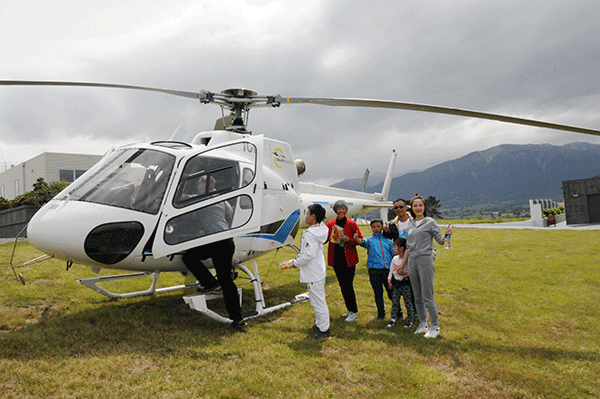 Chinese tourists have been safely evacuated from the disaster area to Christchurch in New Zealand by helicopters on November 14, 2016. [Photo/Xinhua]
CHRISTCHURCH - About 125 Chinese tourists trapped in a tourist resort by a strong quake in New Zealand, have been safely evacuated from the disaster area to Christchurch by helicopters.
The magnitude-7.5 earthquake and subsequent aftershocks struck the country's South Island after midnight on Monday, killing two people.
More than 1,300 tourists, including the Chinese, were confirmed stranded in Kaikoura, a popular tourist destination famed for its coastal scenery and whale-watching activities.
Most of the evacuated Chinese tourists will continue their tour in New Zealand, and some of them already hit the road southward on Tuesday to areas unaffected by the strongest quake in five years.
Roads to Kaikoura, on the northeast coast of the South Island, remained blocked by landslides, with airlifting the only way out.
The Chinese Consulate-General in Christchurch was told early Monday morning about the stranding of Chinese tourists in Kaikoura. Two helicopters were arranged to evacuate 41 Chinese tourists in the day.
On Tuesday, five helicopters were used to transport the rest tourists and altogether 18 flights were made for the rescue.
Li Wei and her Italian husband were among the last batch of the evacuees.
"The Chinese government is the only foreign government that has organized evacuation, which has been quite a relief for us," Li said.