Home / World / Asia-Pacific
Magnitude 7.8 earthquake hits New Zealand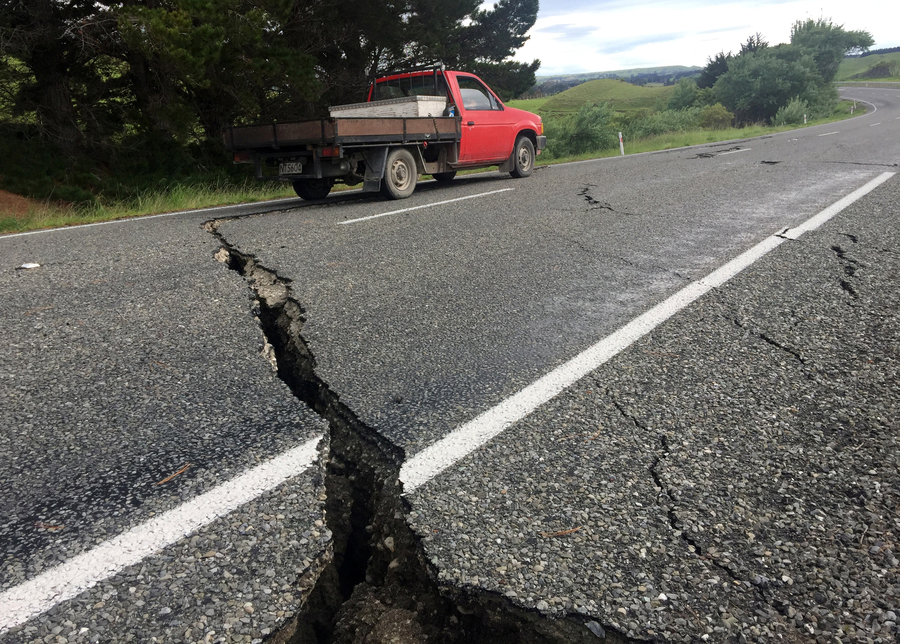 A truck drives over the fractured road caused by an earthquake South of the New Zealand town of Ward on the South Island, November 14, 2016. [Photo/VCG]
WELLINGTON - New Zealanders were still evacuating their homes late Monday after a burst quake dam sent a "wall of water" down a major river system blocked by a deadly earthquake earlier in the day.
The wall of water was sweeping down the Clarence River, in the Marlborough region in the northeast of the South Island, after breaking through the earthquake debris that had slipped into the river, said a statement from the Marlborough Civil Defence agency.
Water had been banking up behind the slip, about 10 km to 12 km upriver from the mouth, since the 7.5-magnitude quake struck after midnight and broke through the dammed-up debris late Monday afternoon.
Emergency services had held fears for a group of 16 rafters on the flooded river, but they were later found safe.
About eight to 10 houses were situated around the river mouth and a few others scattered up river.
Emergency services had succeeded in restoring power to the tourist town of Kaikoura, on the northeast coast of the South Island, but roads to the town remained blocked by landslides.
The government confirmed about 1,000 tourists were stranded in Kaikoura, a popular tourist destination famed for its coastal scenery and whale-watching activities.
Police issued a statement confirming two deaths as a result of the quake.