S.Korean parliament agrees to independent prosecutor bill over president's scandal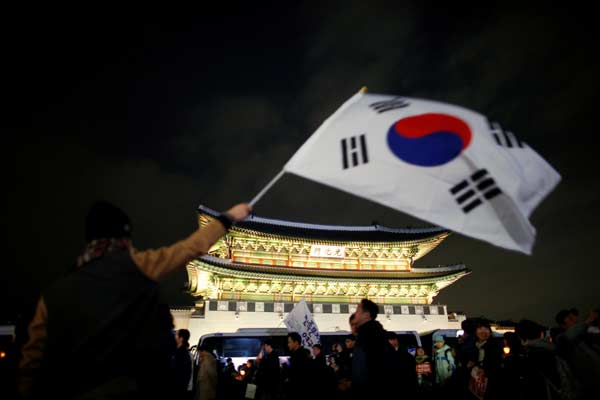 A man waves A man waves a national flag as people march toward the Presidential Blue House during a rally demanding President Park Geun-hye to step down in central Seoul, South Korea, November 12, 2016. [Photo/Agencies]
SEOUL - South Korean parliament on Monday agreed to a bill on appointing an independent prosecutor who will investigate a scandal involving President Park Geun-hye's longtime confidante suspected of meddling in government affairs behind the scenes.
Ruling and opposition parties agreed to the bill, under which the main opposition Minjoo Party and the casting vote-wielding People's Party will propose candidates for an independent counsel to President Park. The ruling Saenuri Party will be excluded from the candidate proposal.
The scandal-plagued president will be required to select one special prosecutor among the parliament-suggested candidates.
The appointed prosecutor will investigate the scandal for a maximum of 120 days, together with four deputy independent counsels, 20 prosecutors dispatched from the prosecution office and 40 special investigators.
Under the bill, the independent prosecutor's team is required to look into allegations that former presidential secretaries had leaked confidential presidential documents to Choi Soon-sil, President Park's decades-long friend, and her relatives and associates.
The allegations include the leakage of secret presidential reports on diplomatic, defense and economic affairs to Choi who is alleged to have reviewed and made recommendations on government policies. Choi is also suspected of having engaged in the appointment of senior government officials and the editing of presidential speeches.
The bill requires the independent counsel to probe into the establishments of Mir and K-Sports foundations, or nonprofit cultural and sports foundations presumably controlled by Choi.
The 60-year-old woman is suspected of using her close friendship with the president to pressure major conglomerates into donating tens of millions of US dollars to the two foundations.
Also subject to key investigations will be alleged favors granted to Choi's 20-year-old daughter when entering a prestigious university and 2.8 million euros (about 3 million US dollars) transferred by Samsung to a company co-owned by Choi and her daughter.
Woo Byung-woo, former senior presidential secretary in charge of supervising police, prosecutors and intelligence agency, will be subject to the special probe on charges of conniving or protecting the leakage of presidential documents and the abuse of power by Choi and her relatives.