Chinese customers breathe new life into Savile Row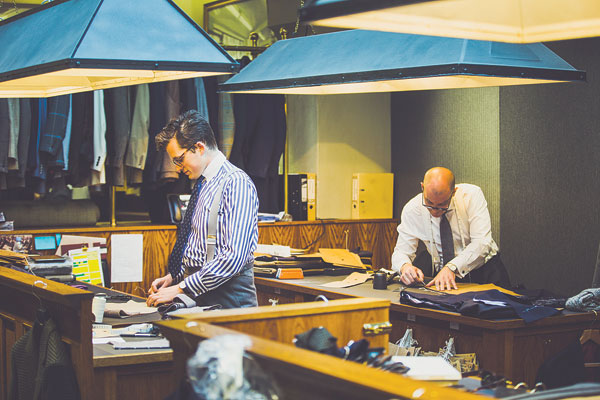 Tailors at work at Huntsman, one of Savile Row's oldest tailors established in 1849. [CHINA DAILY]
Chinese clients who are willing to pay in excess of 5,000 pounds ($6,214) for a bespoke suit are breathing new life into Savile Row, the London street that has been home to aristocratic bespoke tailoring since the 18th century.
Now, in addition to the support of Chinese customers, UK authorities have moved to safeguard the Savile Row tradition through rules that stipulate new and existing stores there must "sell bespoke, unique, limited-edition or one-of-a-kind products" and be"complementary to the character and function" of the area.
Mark Graham, the Shanghai-based regional director of Savile Row fine cloth supplier Holland & Sherry, has welcomed efforts.
Graham said Holland & Sherry has seen 30 percent year-on-year growth in the Chinese market during the past two years and notes that British suits are in vogue, thanks to a surge in interest in British culture.
Anything that dilutes the traditions and history of Savile Row threatens what makes the brand attractive to foreign buyers, he said.
"The fact that we carry the Savile Row name, that we are made in England, and that our designs are very British, that's what makes us a success," Graham said. "Every time I go back to Savile Row from China, I see more and more cool and trendy stores which aren't in tradition with the area.
British culture is very in fashion at the moment. The Royal Family has had a lot to do with that, as have a lot of British films recently like Kingsman and the Bond films."
Campbell Carey, creative director at iconic Savile Row mainstay Huntsman - the inspiration behind the
blockbuster movie Kingsman-said expansion into foreign markets is essential for Savile Row's survival.