Commentary: The US election, a choice of the less undesirable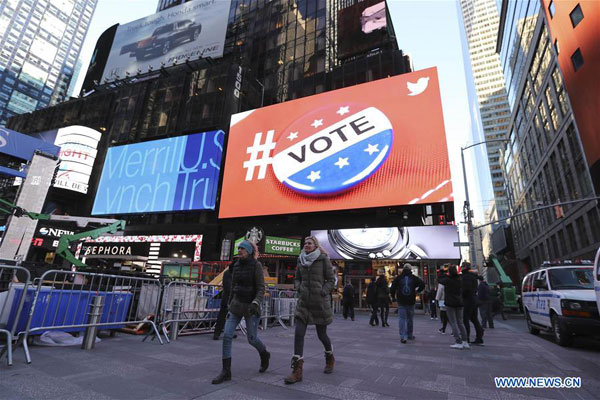 People walk past a screen showing a media advertisement for the voting day at the Times Square in New York, the United States, Nov 7, 2016. The US general election will be held on Nov 8. [Photo/Xinhua]
BEIJING -- American voters are heading to voting booths across the United States Tuesday to elect a new president, frustrated that they are stuck with two of the least desirable candidates in perhaps the whole history of the US electoral politics, and facing an uncertain future.
The fact that the past few months of a mud-slinging, insult-driven and scandal-ridden presidential campaign is about to end comforts few, as more caustic rhetoric or false promises could follow even after a new administration takes over.
In their bids to replace outgoing US President Barack Obama, the two White House contenders have been very unscrupulous and incoherent.
The traditional idea that a presidential race ought to be a contest of better policy options has been pronounced dead. Donald Trump, the Republican candidate, and his Democratic competitor, Hillary Clinton, have pulled almost every lever they could to convince the constituency of their rival's lack of qualifications for the White House job.
Together, they have succeeded in revealing the darkest side of the political system Washington intends to impose on the rest of the globe.
Trump's arrival at the center stage of US politics is certainly no accident. His rise was largely fed by strong public discontent over the existing political establishment in Washington that has lost touch with the working class.
However, his supporters are almost certain to be disappointed. The real estate mogul-turned-politician has little backing inside the Beltway. His ability to deliver the kind of change his proponents desire is very much in doubt, not to mention whether the billionaire really means to deliver on what he has promised.
Unlike Trump, Clinton is very much a polished veteran politician, yet repeated opinion polls have shown that many believe she would not make a trustworthy leader.
Seeking to return to the White House as president, the former First Lady has to hide or twist a long list of inconvenient facts she does not want the public to know.