UN chief slams violence wounding peacekeepers in Central African Republic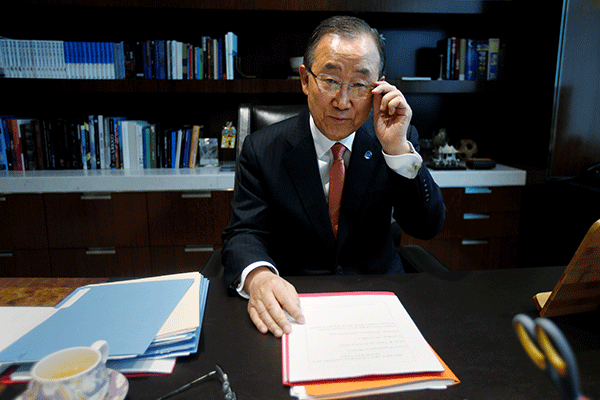 United Nations Secretary General Ban Ki-moon sits at his desk as he poses for a portrait in his office at United Nations Headquarters in the Manhattan borough of New York, New York, US, October 21, 2016.[Photo/Agencies]
UNITED NATIONS - UN Secretary-General Ban Ki-moon Tuesday condemned the outbreak of violence in the Central African Republic, which killed at least four civilians and injured nine others including five peacekeepers a day earlier.
The secretary-general "deplores" the attacks in the African country's capital of Bangui against the Multidimensional Integrated Stabilization Mission in the Central African Republic (MINUSCA), in which five peacekeepers were injured, said a statement issued here by Ban's spokesman.
"The secretary-general welcomes the determination of the government to ensure that the perpetrators and instigators of these attacks are brought to justice," the statement said.
Ban also welcomed MINUSCA's commitment to investigate the events which led to series of deaths and injuries, and reiterated that MINUSCA will take all necessary measures in line with its mandate to protect civilians and foster stability, the statement said.
"The secretary-general reiterates that the actions of those seeking to destabilize the government and harm the country's prospects for peace and stability must not undermine the important work of rebuilding the country's infrastructure, promoting social cohesion, reconciliation and economic recovery, strengthening the rule of law, and creating opportunities for all," the statement said.
"He welcomes the important steps taken by the government to address the root causes of the conflict through an inclusive political process and lay the foundations for long-term stability in the Central African Republic," the statement added.
MINUSCA said it is working with authorities in the country to provide support for in-depth investigations into the circumstances of these incidents.
In early October, 30 people were killed and 57 others wounded when fighters from the Muslim Seleka militia group staged an attack in the central town of Kaga Bandoro.
A few days later, 11 people were shot dead in a camp for displaced people in Ngakobo, northeast of Bangui.
A civil war in the Central African Republic broke out on Dec 10, 2012 between Seleka rebel coalition and government forces.
Seleka took power from former President Francois Bozize in March 2013 and the rebels' leader Michel Djotodia declared himself president.
A National Transitional Council was established and elected Catherine Samba-Panza as provisional president until the second round of the new election on Feb 14, 2016, in which Faustin Archange Touadera was elected as president.