Central African Republic's voters head to polls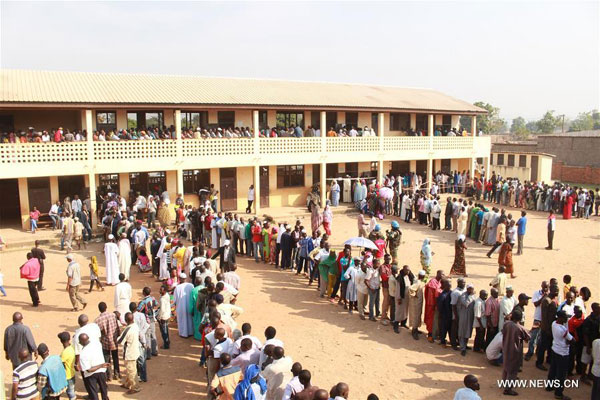 Voters wait in line at a polling station in Bangui, the Central African Republic, Dec 30, 2015. [Photo/Xinhua] 
BANGUI - Presidential and legislative elections in the Central African Republic began on Wednesday morning, albeit with delayed opening of polling stations due to logistical challenges.
The double elections which were initially supposed to be held on Sunday, were postponed for three days due to shortage of voting materials.
Some 1.9 million registered voters are expected to turn out in 5,996 polling stations distributed across the 16 prefectures in the country.
Thirty candidates are contesting for the presidency and 1,642 others are contesting for the 140 parliamentary seats, according to figures released by the National Elections Authority.
The elections come after the holding of a constitutional referendum for adoption of a new fundamental law on Dec 13, 2015. The referendum was hit by deadly violence in Bangui and several other towns under control of rebel movements.
Official figures released by the country's Constitutional Council indicated that during the referendum, turn out was low; 26 percent in Bangui and 33 percent across the national territory.
The elections which are expected to end a three-year civil war, were in principle supposed to have taken place in 2014, but the timetable was continuously changed due to persistence of violence in the country.