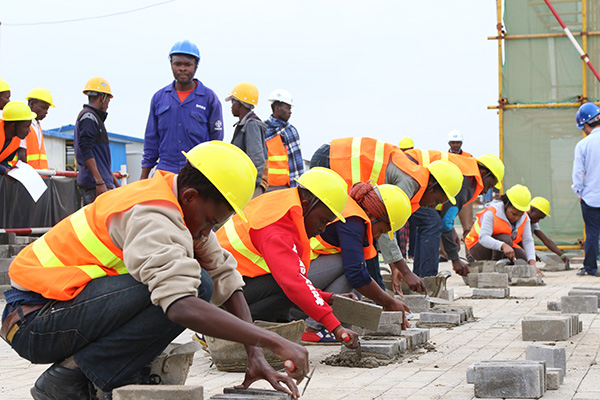 After fierce competition, seven participants were recruited by CRBC. Photo by Liu Hongjie
Seven young Kenyan adults from poor backgrounds were recruited by China Road and Bridge Corporation (CRBC) to work on its Section Eight of Standard Gauge Railway (SGR) of the Mombasa-Nairobi Railway on May 27.
A total of 21 candidates attended the interview on Friday. The candidates were all from the "Sport for Kenyan Youth Employment" (SKYE) project which delivers a sport-based work readiness curriculum and on-the-job training model that equips youth with nationally recognized, market-driven skills and provides direct linkages to jobs.
Seven of them were recruited after performing in a bricklaying contest. The top performer was Willson Musyoki, a father of three children, who shared his experience and skills with other participants afterwards.
"CRBC not only focuses on the construction of SGR in Kenya but also brings tangible benefits to the local people, it's a very responsible company," Musyoki said.
According to Yang Liang, head of the public relations of Section Eight of the project, they have recruited more than 1,800 local workers at construction sites around Nairobi and about 100 middle level management personnel. As a result, the recruitment brings the ratio between local people and Chinese people to a 12 to one ratio.
Yang said, "It's obvious that CRBC provides employment opportunities for the local people. What's more, after getting experience and skills they are able to get a more stable job. Their living standards will be upgraded."
Initiated by the International Youth Foundation (IYF) and donored by Barclays Bank Plc, SKYE strives to completely address the needs of young Kenyans, targeting disadvantaged young women and men, 18 to 25 years old, who are out-of-school and unemployed, by integrating football into a dynamic training model that will enable them to secure quality jobs in the construction sector.
Leveraging young people's passion for football, SKYE uses IYF's life skills curriculum with modifications for the sport field to strengthen the competencies gained through sports participation, leadership, discipline, communication, teamwork, and responsibility. The rigorous, tested work readiness training is followed by training and certification in a construction industry. This intensive on-site training uses an internationally recognized curriculum and national certification process to ensure youth emerge prepared to work on a construction site.
Elizabeth Wanja, project manger of IYF, who helped to organize the interview said, "The oppertunities CRBC provided are very important to the young people from poor backgrounds. They got jobs and practised their skills, which laid a sound foundation for their future lives."
It is the second time that CRBC recruit young people trained by the SKYE project. Wanja said she hopes to formalize and get further cooperation with tbe CRBC so that their skill training can be more specific and meet the demand.
Yang expressed the same willingness. He echoed that CRBC hopes to closer cooperation relations with local training institutions and NGOs.
"CRBC does not rule out the possibility to set up a training and practice center at its construction sites, which can help local youth improve their working skills and secure a better life," he said.
liuhongjie@chinadaily.com.cn