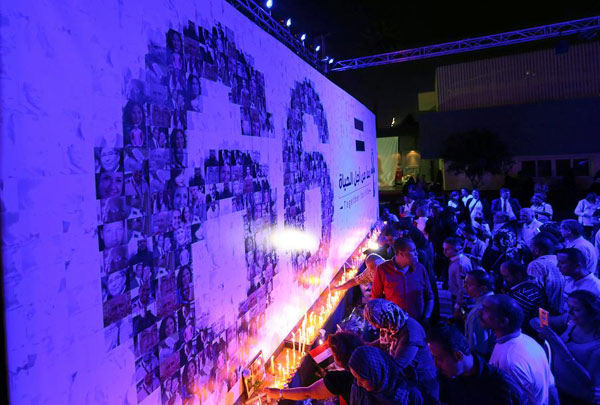 People light candles during a candlelight vigil for the victims of EgyptAir flight 804, at the Cairo Opera house in Cairo, Egypt May 26, 2016. [Photo/Agencies]
CAIRO - A massive candlelight march has been held Thursday evening near the Opera House here in the Egyptian capital city over the recent EgyptAir plane crash with the participation of senior officials including the Egyptian aviation minister and the French ambassador to Cairo.
Hundreds of participants, including ministers, ambassadors, representatives of Al-Azhar Islamic institution and the Coptic Orthodox Church, public figures and others, held lit candles, flags of Egypt and banners of EgyptAir logo during the procession that settled at an installed memorial near the Opera House.
EgyptAir Flight MS804, an Airbus A320, went missing last week en route from Paris to Cairo with 66 people on board, including 30 Egyptians and 15 French, until some passengers' belongings, small pieces of wreckage and some body parts of victims were later found in the Mediterranean Sea.
"We're here tonight to pay respect to the souls of our victims and wish their families peace and patience," Egypt's Civil Aviation Minister Sherif Fathy said in his brief statement at the memorial.
Beneath a large sign with the flag of Egypt, EgyptAir logo, a slogan reading "Together for Life," and a large "66" shape referring to the number of victims, the memorial near the Opera House was lit by dozens of candles and surrounded by wreathes of flowers while mourning music was playing in the background.
Probe into the plane crash run by an Egyptian investigation committee and the search process for more debris, human remains and the two black boxes still continue with all theories, including a bomb and a severe technical failure, are on the table.