China and Angola sign cooperation deals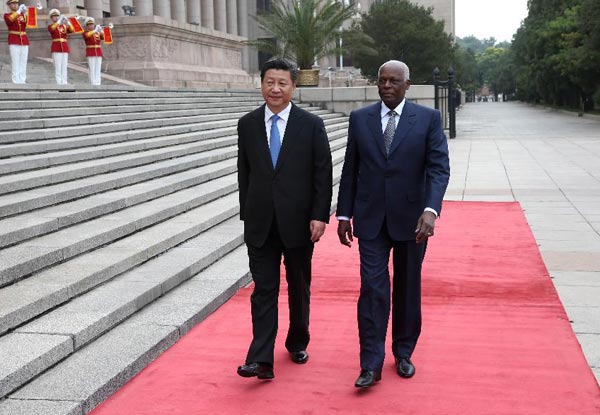 President Xi Jinping (L) holds a welcoming ceremony for Angolan President Jose Eduardo dos Santos before their talks in Beijing, June 9, 2015. [Photo/Xinhua]
Agreements come as leader of African nation makes first official visit to Beijing in seven years
China and Angola sealed eight agreements on Tuesday covering areas such as economic cooperation, transportation, electricity and financing as Africa's second-largest oil producer continues to face problems caused by falling crude prices.
The agreements were signed in Beijing after a meeting between President Xi Jinping and Angolan President Jose Eduardo dos Santos, who arrived on Monday for his first official visit to China in seven years.
China is willing to help Angola transform its rich natural and human resources into development results and achieve independent and sustainable development, Xi said.
China will encourage its enterprises to invest in Angola, participate in its industrial parks and infrastructure construction and help it to diversify its economy, he added.
Xi called for the early signing of further agreements covering currency swap, investment protection and avoidance of double taxation.
Dos Santos reaffirmed his government's commitment to diversifying the economy, and said the administration hoped to see greater cooperation with China in sectors such as infrastructure, education, agriculture, industry and financing.
Angola, at a critical stage of economic rebuilding and industrialization, needs and looks forward to more Chinese investment, Dos Santos said in a separate meeting with Premier Li Keqiang in Beijing.