Pistorius to be released on parole in August: family member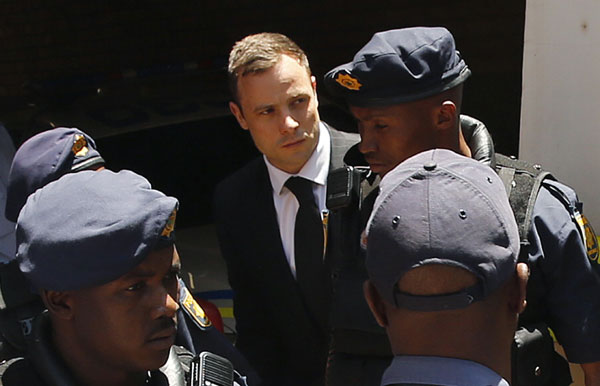 South African Olympic and Paralympic sprinter Oscar Pistorius (C) is escorted to a police van after his sentencing at the North Gauteng High Court in Pretoria in this October 21, 2014 file photo.[Photo/Agencies]
JOHANNESBURG - South African athlete Oscar Pistorius is set to be released from prison on parole in August after serving 10 months for culpable homicide in the killing of his model girlfriend Reeva Steenkamp, a family member said.
The Olympic and Paralympic track star is currently serving a five year prison sentence after being convicted in October following a seven-month trial.
"Oscar will be released on parole by the end of August," a Pistorius family member who did not want to be named told Reuters.
Officials at South Africa's department of correctional services were not immediately available to comment.
The release of Pistorius, whose lower legs were amputated when he was a baby, was largely expected because he was sentenced under South African law to serve a short period of time in jail, or just one-sixth of the sentence.
Pistorius is being held in South Africa's capital at the Pretoria Central Prison, once the execution site for opponents of South Africa's racist, white-minority government.
Steenkamp, a 29-year-old law graduate and model, died almost instantly on Valentine's Day in 2013 when Pistorius shot her through a locked toilet door at his luxury Pretoria home.
Prosecutors had pushed for a murder conviction, but the athlete maintained he fired in the mistaken belief an intruder was hiding behind the door, a defence that struck home in a country with one of the world's highest rates of violent crimes.
The prosecutors won their bid to appeal the culpable homicide conviction and will seek a murder conviction when their case is heard in November.
The decision could leave Pistorius open to a prison sentence of at least 15 years if he is convicted of murder.