Pistorius jailed for five years for Steenkamp killing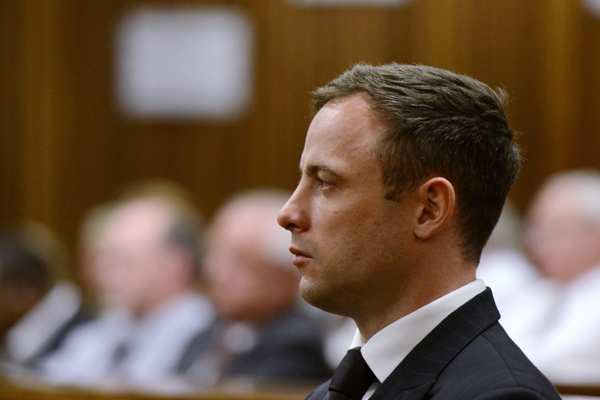 South African Olympic and Paralympic track star Oscar Pistorius attends his sentencing at the North Gauteng High Court in Pretoria October 21, 2014. [Photo/Agencies]
PRETORIA  - South African Olympic and Paralympic sprinter Oscar Pistorius was sentenced to five years in prison on Tuesday for killing his girlfriend Reeva Steenkamp, ending a trial that has gripped South Africa and the world.
As judge Thokozile Masipa read out her decision on Pistorius' Sept. 12 culpable homicide conviction, the 27-year-old, whose downfall has been likened to that of American football star O.J. Simpson, stood resolutely in the dock.
His only reaction was to wipe his eyes before two police officers led him down to the holding cells beneath the High Court in the heart of the South African capital. An armoured police vehicle took him from the court building.
Masipa -- only the second black woman to rise to the bench -- stressed the difficulty of arriving at a decision that was "fair and just to society and to the accused".
The 67-year-old also rebuffed suggestions that Pistorius -- a wealthy and influential white man -- might be able to secure preferential justice despite the "equality before law" guarantee enshrined in South Africa's post-apartheid constitution.
"It would be a sad day for this country if an impression were created that there is one law for the poor and disadvantaged, and one law for the rich and famous," she said.
Steenkamp, a 29-year-old law graduate and model, died almost instantly on Valentine's Day last year when Pistorius shot her three times through a locked toilet door at his luxury Pretoria home.
The athlete maintained that he fired in the mistaken belief an intruder was hiding behind the door, a defence that struck a chord in a country with one of the world's highest rates of violent crime.
The ruling African National Congress' Women's League, which is at the forefront of political efforts to tackle violence against South African women, immediately called for an appeal by the state against the culpable homicide conviction.
However, Steenkamp's family said it was satisfied.
"Justice was served," family lawyer Dup De Bruyn told reporters outside the court. The judge had given "the right sentence", he said.
SOUTH AFRICA'S "DARK AGES" GONE
With no minimum sentence for culpable homicide, South Africa's equivalent of manslaughter, Pistorius could have been punished with a period of house arrest combined with community service.
Before the decision, protesters picketed against Pistorius outside the court, a sign of the anger that might have ensued and the damage that might have been done to the much-criticised judicial system if the sentence was seen as too light.
"Why are certain offenders more equal than others before the law?" said one demonstrator, Golden Miles Bhudu, who stood on the pavement in orange prison garb and wrapped in chains.
However, Masipa pointed to the moral and philosophical changes South Africa has undergone since the election of Nelson Mandela in 1994 and the end of white-minority apartheid rule, saying the "eye-for-an-eye" principle no longer applied and courts did not dispense mob justice.
"As a country we have moved on from the dark ages," she said. "Society cannot always get what they want because courts do not exist to win popularity contests."
Pistorius' defence lawyer, Barry Roux, said he expected the jailed athlete to serve only 10 months of the five-year sentence behind bars, and the remainder under house arrest.
However, South Africa's state prosecuting authority disputed this, saying Pistorius was likely to serve at least a third of his sentence in prison -- effectively 20 months.
On a separate firearms charge for which Pistorius was also found guilty, Masipa gave him a three-year suspended sentence.
The athlete, known as "Blade Runner" because of his carbon-fibre prosthetics, became one of the biggest names in world athletics at the London 2012 Olympics when he reached the semifinals of the 400m race against able-bodied athletes.