Pistorius arrives for murder trial judgement day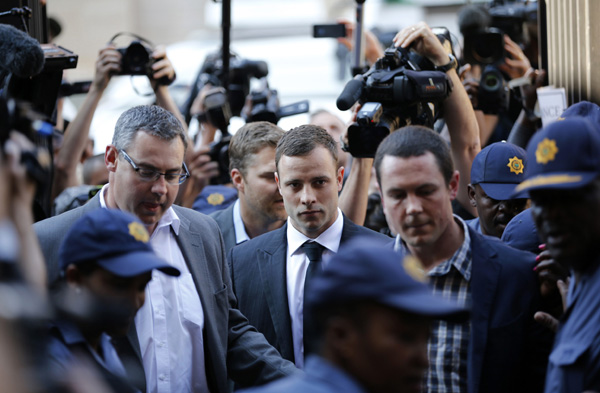 South African Olympic and Paralympic track star Oscar Pistorius (C) arrives for the verdict in his murder trial at the high court in Pretoria September 10, 2014. [Photo/Agencies]
PRETORIA - Oscar Pistorius, the South African double amputee who became one of the biggest names in world athletics, arrived at the Pretoria High Court on Thursday for the verdict in his 6-month murder trial, a decision that could put him behind bars for 25 years.
In a fitting reminder of how South Africa has changed in the 20 years since apartheid, the fate of Pistorius, a wealthy white man from privileged roots, rests in the hands of a 66-year-old black woman from Soweto, Judge Thokozile Masipa.
Pistorius arrived at the courthouse in the heart of the capital at 0700 GMT in a dark suit and white shirt. He was surrounded by a ring of bodyguards and police who escorted him through a scrum of reporters and television cameras.
He appeared calm, staring straight ahead and making no comment.
Shortly after, his estranged father Henke arrived, putting in only his second appearance at the on-off, six-month trial.
"I'm just here to support him," Henke told reporters.
Throughout the trial Masipa - only the second black woman to rise to the bench in South Africa - has remained calm and impassive, seemingly impervious to the global interest in a case that has drawn comparisons to the 1995 murder trial of American football star OJ Simpson in California.
For Pistorius, the options when Masipa delivers her final verdict, most probably on Friday, are stark.
If she sides with the state, which argues that he murdered his model girlfriend Reeva Steenkamp in a fit of rage on Valentine's Day last year, he faces a mandatory life term - effectively 25 years behind bars before eligible for parole.
A conviction of murder with less explicit intent could still see him incarcerated for up to 20 years.
Alternatively, Masipa could reject any notion of intent but still rule culpable homicide, equivalent to Britain's manslaughter, for the reckless or negligent killing of Steenkamp, who was shot through a toilet door at Pistorius's luxury Pretoria home.
Or she could accept Pistorius's assertion that he acted in 'putative' self-defence, firing four shots from a 9mm pistol through the door in the mistaken but genuine belief that an intruder was lurking behind it.
Given the explicit curbs in South African law on the use of lethal force without a direct threat to life, legal analysts say the final option is the least likely.
"It's entirely possible that he could be convicted of murder but not premeditated murder," said James Grant, a criminal law professor at Johannesburg's University of the Witwatersrand, who thinks that at best the court will rule Pistorius was negligent.
"The court is going to ask whether he acted as a reasonable gun-owner, and I think the answer to that is going to be no," he said.
If convicted, sentencing is likely to be delayed to another hearing in a few weeks, during which time Pistorius can apply for bail. He would also be almost certain to appeal.