Islamic State claims responsibility for Tunisian museum attack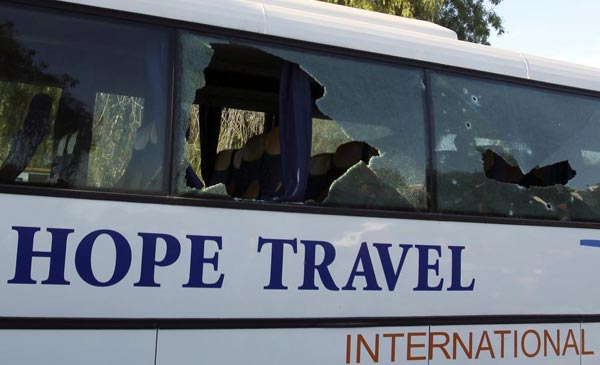 A damaged bus is seen after an attack by gunmen on Tunisia's national museum in Tunis, March 18, 2015. [Photo/Agencies]
TUNIS, Tunisia - The Islamic State group claimed responsibility Thursday for the attack that killed 21 people at a museum. But Tunisian authorities said the two slain gunmen had no clear links to extremists, and analysts said existing militant cells are merely being inspired by the group, rather than establishing its presence across North Africa.
Police announced the arrest of five people described as directly tied to the two gunmen who opened fire Wednesday at the National Bardo Museum. Four others said to be supporters of the cell also were arrested in central Tunisia, not far from where a group claiming allegiance to al-Qaida's North African branch has been active.
Tunisians stepped around trails of blood and broken glass outside the museum to rally in solidarity with the 21 victims - most of them foreign tourists from cruise ships - and with the country's fledgling democracy. Marchers carried signs saying, "No to terrorism," and "Tunisia is bloodied but still standing."
Analysts cautioned against seeing every such attack as evidence of a well-organized, centrally controlled entity spanning the Middle East, saying instead that small groups could merely be taking inspiration from the high-profile militant group.
"I think (the Islamic State) is probably taking credit for something it may not have played a role in," said Geoff Porter, a security analyst for North Africa.
The extremist group appears to be trying to raise its profile by associating itself with attacks around the region.
Confronted with a poor economy, young Tunisians have disproportionately gone abroad to fight with extremist groups in Libya, Syria and Iraq, including some affiliated with the Islamic State. Upon their return home, some may have decided to carry out attacks on their own.
Tunisian authorities have estimated that of the 3,000 young people who left the country to fight with radical groups, about 500 have returned.
"It could have been people who fought with the Islamic State or were inspired by it," said Raffaello Pantucci, director of International Security Studies at the Royal United Services Institute, a British think tank. "Some guys may have come back, not liked what the government is doing, and attacked the tourist industry to hurt the economy - a classic move."